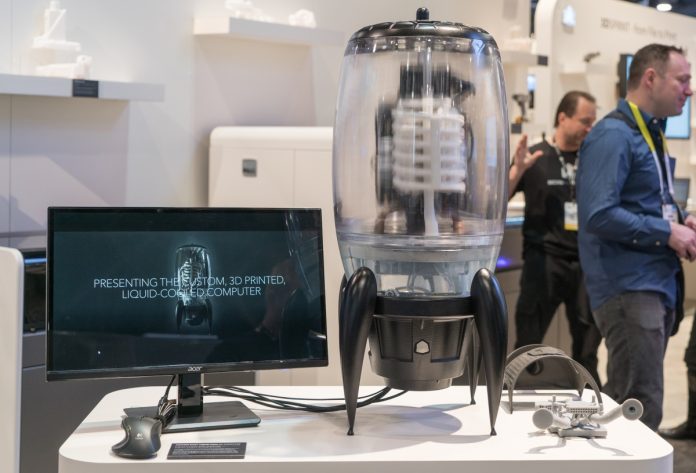 3D Systems unveiled a super cool product at this year's CES – the 3D printed Liquid-Cooled Computer.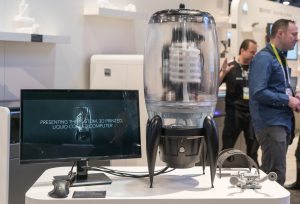 3D Systems' team of engineers basically redesigned the good old computer we all love and cherish. They set off by collecting 3D data from the motherboard, graphics card, etc. – with the help of a Geomagic Capture 3D Scanner – and then converted that data into CAD models with the Geomagic Design X.
Then, the models were transferred into Geomagic Design CAD software and Geomagic Freeform, in order to make an assembly of sculpted parts to house and cool the computer.
"This turned out to be a great project for our team because it not only showcases individual technologies, it shows how they all work together to solve complex design and engineering problems," said Cyle Caplinger, Business Development Manager, Software, 3D Systems.
"We're fortunate to have a really flexible, powerful portfolio that enables us and our customers to find and use the best possible manufacturing method for the parts and performance they need."
In order to make a transparent reservoir that would be compatible with the chemical properties of the coolant, the team of engineers had to print a master pattern from which they could later derive a silicone mould for casting in lexan-like urethane.
"The combination of 3D printing processes and traditional manufacturing that we chose allowed us to match our design intentions with material performance," said Sean Perkins, Global Benchmark Manager, On Demand Parts, 3D Systems.
"We knew the thermal transfer properties of copper would make it a great material for the water block, so we 3D printed the casting pattern in QuickCast material on our ProX 800 SLA printer to be cast in copper. We complemented this with GibbsCAM CNC machining to get the fine interior details that wouldn't have withstood casting."
Click here to check out more cool stuff from CES and 3D Systems.