Chef Works Australia has announced the launch of their new Urban Collection, a new product line the offers street-wise chef's apparel that is both fashionable and functional, designed to target an upcoming segment of the market.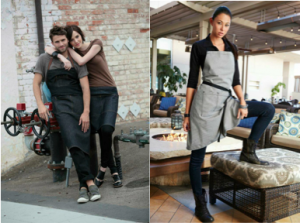 "We took notice of the emerging trends in gourmet food trucks, pop-up restaurants, and rising culinary stars and we developed a street-inspired line of culinary apparel that provides the perfect combination of edgy fashion and forward-thinking functionality," said Chef Works in a media release.
"We use bold striped patterns, lightweight dual tone denims, and even some new twists on traditional classics. The Urban Collection is a solution for those who want it all: cutting-edge trends, affordability, and high-quality."
The new denim range has six lines: Bronx, Manhattan, Memphis, Portland, Chesapeake and Charlotte & Santa Fe . Most of the lines include bib, half waist and short waist apron options.
Chef Works Australia, the Australian arm of the global hospitality apparel company Chef Works, has developed a well-deserved reputation for their outstanding selection of high quality culinary apparel.The company can currently be found in over 45 countries around the world and has been successfully manufacturing and distributing high quality culinary apparel internationally for over 45 years.