Cisco, the world leader in IT, and Rockwell Automation, the largest company dedicated to industrial automation and information, have released a new White Paper that is set to help businesses share plant and enterprise data in a secure way.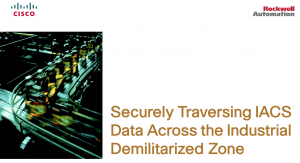 "Many manufacturers segment business-system networks from plantwide networks by using an industrial demilitarised zone (IDMZ). But once segmented, how is data from industrial automation and control systems (IACS) securely shared across this buffer zone?" the companies said in a media release.
According to Cisco and Rockwell, designing an industrial demilitarised zone with the right assets goes a long way in enabling a secure data-sharing from plant wide network to enterprise network.
The new White Paper, titled  "Securely Traversing IACS Data Across the Industrial Demilitarised Zone", provides detailed instructions on how to successfully design and deploy an industrial demilitarised zone as part of a Converged Plantwide Ethernet architecture.
"This allows manufacturers to securely share IACS data from the plantwide network to the enterprise network. The paper explains key IDMZ assets that enable this secure data-sharing, which include application mirrors and remote desktop gateway services," Rockwell and Cisco state.
Click here to download the White Paper.