Advanced manufacturing company Quickstep has welcomed the announcement that the Federal Government of Australia has awarded a $1.5 billion supply contract to defence contractor Thales Australia.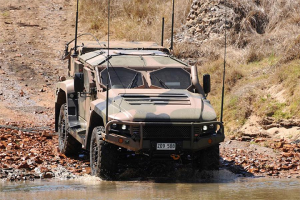 Under the terms of the agreement, Thales will build the next generation of armoured vehicles for the Australian Defence Force.
After inking a letter of intent with Thales, Quickstep will be the exclusive supplier of the bonnet, side skirts and mud guards for Hawkei vehicles.
The partnership was conditional on Thales securing a long-term contract to supply up to 1,300 Hawkei vehicles to the Department of Defence.
Now that Thales has secured the agreement, Quickstep said that the production of the Hawkei parts will be undertaken at their new automotive facility in Waurn Ponds, Victoria.
"We are delighted that Thales Australia has secured the Hawkei project, and look forward to working with them on the next generation of our nation's land forces," said Quickstep's CEO and Managing Director Mr David Marino in a media release to Australian Manufacturing.
This will be the first automotive project that will use Quickstep's innovative Qure and Resin Spray Transfer (RST) technologies, "enhancing their credentials in delivering industry disruptive manufacturing processes for the automotive and aerospace industries."
Quickstep's disruptive Qure technology drastically reduces manufacturing times and costs for producing carbon fibre composite vehicle parts.
Aside from the Hawkei project, Quickstep also has an agreement to supply carbon fibre composite parts to an Original Equipment Manufacturer (OEM) beginning in 2016.