Premier Colin Barnett officially opened the Cisco Internet of Everything (IoE) Centre in Western Australia – a partnership between the software and security company, Curtin University and one of Australia's largest energy companies Woodside.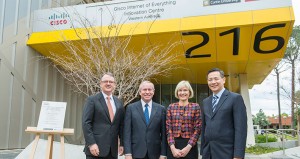 The centre is part of a $30 million commitment by the three partners; it will include a state-of-the-art laboratory, a technological collaboration area, and a dedicated space to showcase IoE applications.
"We look forward to hosting the Centre on our Bentley Campus and working with our partners to help unlock economic and social benefit from our capability in astronomy, geosciences and big data, and the many benefits the Internet of Everything Innovation Centre will bring," said Curtin University Vice-Chancellor Professor Deborah Terry.
The new hub is set to bring together start-up companies, industry experts, developers, researchers and academics in an open collaboration environment to create a "connected community" focused on cloud, analytics, cyber security and IoT network platforms.
"The Cisco Internet of Everything Innovation Centre will assist Western Australia to become a global collaborator in research and innovation, offering us a competitive advantage for investment, new businesses and creating jobs. It's a fantastic example of leadership by industry, and will have a real economic impact," Premier Barnett said.
"Already through our initial Western Australian IoE Centre partners we are seeing exciting innovations including work around the energy 'Plant of the Future' with Woodside, and ongoing progress led by Curtin University around the Square Kilometre Array which will be the largest, most capable radio telescope ever constructed. The new IoE Centre will be complete later this year, and Cisco experts, industry partners and ecosystem start-ups will work together to develop next generation technology solutions, complete proof of concepts, and do rapid prototyping," said Mr Irving Tan, Senior Vice President of Cisco Asia Pacific & Japan.
Woodside CEO Peter Coleman said the "Plant of the Future" will link Woodside's vast knowledge base with artificial intelligence, data analytics, and advanced sensors and control systems.
"We are taking a collaborative approach to enhancing our operations as part of our digital transformation journey. This partnership will create a globally competitive centre for excellence that could be leveraged in our LNG operations, as we progress our remote operations capabilities," Mr Coleman said.
Cisco estimates that the potential value at stake to the Australian economy for the Internet of Everything could be more than $74 billion over the next 10 years.
The CSIRO has also signalled their intent to join Cisco and the centre foundation partners.
According to the official news release, the Cisco IoE Innovation Centre, Australia, will include a hub in Perth and Sydney opening later this year, and is one of eight globally including in Rio de Janeiro, Toronto, Songdo, Berlin, Barcelona, Tokyo and London.