BAE Systems has announced that it has signed an agreement with Saab Australia to pursue a joint bid with Finland-based Patria for Australia's armoured vehicle program.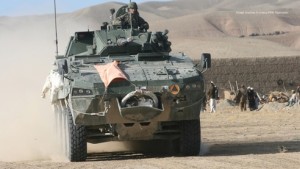 BAE is the prime contractor pursuing Defence program Land 400 Phase 2 Mounted Combat Reconnaissance Capability with Patria.
According to the official news release, the partnership with Saab will allow the BAE Systems-Patria team to substantially exceed the 200 Australian advanced manufacturing jobs and $100 million in supply chain value already identified by the team for the manufacturing phase of the program. The vehicles will then be sustained in Australia for the next 30 years.
The Project is aimed at enhancing the Army's mounted close combat capability to operate in a broad range of conflicts.
The vehicles are complex heavily armoured vehicles with high cross country mobility and a high level of lethality; each takes months to build and costs up to $10 million.
The $10 billion Armoured Fighting Vehicles program could provide 30 years of advanced manufacturing and sustainment work for South Australians.
Under the joint bid, BAE will serve as a primary contractor, Patria will work to manufacture armoured modular land vehicles for the program and Saab Australia will work to provide subsystems and related support services.
"With Land 400, BAE Systems seeks to strengthen Australia's advanced manufacturing capability and maximise Australian industry involvement within its supply chain. Our offer will replicate overseas success for manufacturing and sustaining the Patria Armoured Modular Vehicle (AMV), in Australia. The vehicle has been successfully manufactured in countries outside of Finland and has a strong track record for technology transfer to user nations," said Graeme Bent, BAE Systems Australia's Director – Land & Integrated Systems.
"Saab is delighted to draw on its global expertise and experience to provide key sub-systems into the BAE Systems-Patria solution for Land 400. Saab already has a significant presence in Australia and this collaboration will enable us to further grow our business in the Land domain. Land 400 provides additional opportunities for local manufacture, assembly, integration and in-service support that will not only assist us to achieve these aspirations but will be vital in growing local industry capability to effectively deliver and support combat vehicles for the ADF," added Dean Rosenfield, Saab Australia's Managing Director.