Joined by Senator Jacqui Lambie, Opposition Leader Bryan Green, state MPs, union members and locals, Australian Council of Trade Unions (ACTU) president Ged Kearney led a rally through the streets of Devenport, Tasmania.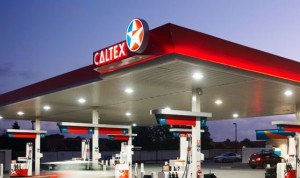 The crowd protested to show their support for 36 Australian crew members of the Teekay tanker Alexander Spirit who were told last week by oil giant Caltex that they would be replaced by foreign workers on a new international route.
"The Abbott Government is selling out Australian workers' jobs, local industries, our hard-won workplace rights and conditions, and our standard of living to foreign corporations," said Ian Bray, Assistant National Secretary of The Maritime Union of Australia.
The marchers called on the Government to intervene in the case of the Alexander Spirit workers who refused to set sail for Singapore until they receive more information about their redundancy entitlement.
The crew members aboard the Alexander Spirit were originally told by their employer that they would sail to Singapore to get the ship's hull cleaned but on Thursday were told that they would be offloaded permanently upon arrival in Singapore.
Caltex Australia no longer needs the tanker to transport fuel between domestic ports so it intends to replace the Australian crew with foreign workers.
The tanker is one of two remaining local tankers being used for coastal transport in Australia.
"Following the closure of BP's Bulwer Island refinery, Caltex has adjusted elements of its Queensland fuel supply chain. Caltex previously used 40,000-tonne tanker Alexander Spirit to distribute surplus fuel products from the Lytton refinery to other ports along the east coast. However, this has changed in light of the closure of BP's refinery and a new supply agreement by Caltex with BP effective from 1 July. This agreement means that the surplus petrol and diesel from Caltex's Lytton refinery is now supplied to BP in Brisbane instead of needing to be shipped elsewhere by Alexander Spirit," Caltex said in a news release issued on Friday.
"The safe and reliable supply of fuel across the state will be unaffected by this change. Caltex regrets that about 36 crew positions on the Teekay Shipping Australia-operated Alexander Spirit will be affected. Teekay is managing the transition and Caltex has been assured the affected crew members will be provided with their full redundancy entitlements. Alexander Spirit will be redeployed to the international fuel supply chain, spending most of its time in international waters competing against every other ship importing fuel into Australia."
According to Australian news reports, the crew have filed an application for a hearing to Fair Work Australia in Sydney, while Teekay is seeking an order from the commission to halt the industrial action.