The City of Gold Coast – the first Council in Queensland to pledge its support to the Australian Made Campaign – is calling on other local councils to join the Campaign and advocate for local manufacturers.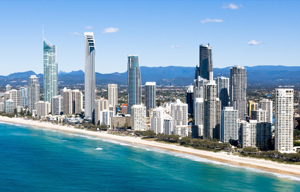 It became a supporter of the Australian Made Campaign in 2013 and has been helping Australian manufacturing businesses to increase their capacity locally and access export markets ever since.
The Australian Made Campaign is the not-for-profit organisation that administers and promotes the green-and-gold Australian Made, Australian Grown (AMAG) logo, Australia's registered country-of-origin trademark, which helps businesses to clearly identify that their products are Australian.
City of Gold Coast Mayor Tom Tate said the partnership with the Australian Made Campaign was aimed at facilitating access to the wide range of resources available to certified Australian Made businesses.
"The City of Gold Coast is proud to partner with the Australian Made Campaign to help farming and manufacturing businesses increase their capacity. There is a strong marketing campaign behind the iconic Australian Made kangaroo logo, and we're working to encourage more businesses to get involved and access the resources they have available to them," said Mr Tate in a news release.
"We are deeply committed to supporting local businesses having introduced Australia's best local procurement policy. Partnering with Australian Made was the next logical step to give our local manufacturers an added edge in a competitive overseas market."
He said he was hopeful that more Queensland Councils would join the campaign to boost awareness about the initiative.
"By joining forces, Councils can help support the passionate collective of local businesses making and growing products here, thereby creating local jobs and improving the local economy and community," he said.