A $78million investment for SPC, the Goulburn Valley fruit and vegetable processing company, has been announced by its parent company Coca-Cola Amatil (CCA), along with a $22 million funding from the Victorian Government.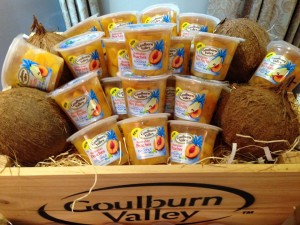 According to the media release by SPC, the combined investment will enable the recommencement of a $100 million investment program "which was suspended following Greater Shepparton City Council's decision not to allow SPC exclusive use of Andrew Fairley Avenue."
The investment will be mainly focused on automation of the facility which will not be expanded as the Shepparton site remains bisected by Andrew Fairley Avenue. As a result, the company will have to exit some categories that cannot be accommodated on the site since the space has been reduced.
"It is welcome news that the CCA Board has decided to continue to support SPC and the region despite the council setback. It has been a very challenging process to compensate for the lost opportunity to make our plant more efficient. Our new plan will involve far more automation than originally planned and fewer investment dollars going directly into the Shepparton economy and local construction jobs as a result of not being able to invest in major building works. We have also had to make some tough decisions to progressively exit some product categories that, under the new plan, will simply not fit onto our main site," said SPC Managing Director Peter Kelly.
"However, we believe we have the resources and the plan to strengthen the business. Already our new products like Sneaky Veg, Fruit in Coconut Water, Perfect Fruit and My Daily Fruit are doing well in the market and winning awards for their health benefits. We also have a number of innovative new snacks that will soon join them on supermarket shelves. I am confident we can now offer employees and growers certainty for our future," Mr Kelly said.
The Victorian Government welcomed the decision by CCA to invest in Shepparton.
"We welcome news the board at CCA has shown great faith in Shepparton, in Victorian farm produce and in Victorian food manufacturing. The investment secures more than 500 direct jobs in Shepparton and as many as 2700 flow-on jobs for the region, as well as supporting the farmers who supply SPC. Victoria's Goulburn Valley produces some of the cleanest, greenest fresh produce in the world, grown to the strictest environmental standards," said Deputy Premier and Minister for State Development Peter Ryan in a media release.
"With CCA and SPC on board, that Goulburn Valley produce can be exported to Asia and the world in a modern, ready to eat format. Despite multiple setbacks, SPC has worked with the Coalition Government and we're proud to have delivered this great outcome for Shepparton and Victoria."