General Electric (GE) has announced that it plans to sell off its consumer appliance unit, with Swedish appliance maker Electrolux and consumer products start-up Quirky named as the two potential buyers.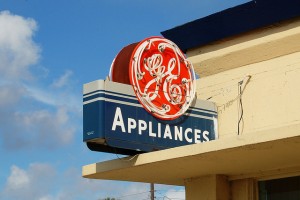 GE revealed its plans to sell the appliance unit last month, hinting that it wants to focus on its core industrial business, reports Deal Book.
The move is just another in a line of attempts to make the company more industrial.Chief Executive Jeffrey R. Immelt sold off NBCUniversal for $30 billion in 2009 and retail finance arm Synchrony Financial last month.
It seems that the company has been implementing plans to divest anything that generates less than 10% in margins.
All paths appear to lead to Power & Water, Aviation, and Transportation which earn around 20% in operating margins. It is quite obvious that GE wants to focus on building and servicing large equipment such as aircraft engines, gas-fired turbines, and oil & gas drilling equipment.
Chief Financial Officer Jeff Bornstein revealed that GE plans to divest about $4 billion in non-financial businesses this year.
According to Bloomberg, if this deal goes through, GE could get at least $2 billion from the sale, which is drastically lower than its $8 billion asking price in the attempted 2008 sale.
"GE is evaluating a wide range of strategic options for our appliances business including discussions with Electrolux and other interested parties," Seth Martin, a GE spokesman, said yesterday.
Various sources claim that Electrolux is in advanced talks with GE for the purchase of its appliance business. Electrolux confirmed its interest in a statement, claiming that there is no guarantee whatsoever that a deal will be reached.
Sweden's Electrolux is one of the world's largest manufacturers of home appliances and industrial equipment, with 2013 revenues totaling $15.9 billion.
Five-year old New-York based start-up company Quirky received a $30 million investment from GE to develop smart air-conditioners. The company is on track to reach $100 million this year.