Coca-Cola Enterprises (CCE) has unveiled plans to invest approximately A$127 million in a range of efficiency and operational upgrades across its Great Britain sites.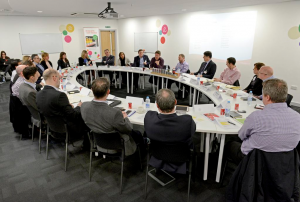 The investment will be directed towards upgrading its automation and water treatment systems and will bring the company's total investment in the business to nearly A$580 million over the last five years.
At the same time, CCE launched a new industry research partnership with Cranfield University to examine the current sustainability landscape across the supply chain by investigating topics such as resource security, the circular economy, sustainable technologies and waste management.
The study, which will take place over the next six months, will also look to the future and try to form a vision of what a sustainable factory will look like in 2050.
Steve Adams, Group Director of Supply Chain Operations, at Coca-Cola Enterprises GB, said Cranfield University was chosen for its strong credentials and dedicated sustainable manufacturing team.
"We are excited to be embarking on this journey with Cranfield, as we look to the future of   in our industry. At CCE we take our responsibilities in this area very seriously and we are constantly looking for new ways to progress and improve, which is why we have again pledged to invest significantly across our operations this year," Mr Adams said at a roundtable event held at CCE's Milton Keynes factory.
Mark Jolly, Professor of Sustainable Manufacturing at Cranfield University, said he hoped the collaborative effort between CCE and the University would help the company fulfil its sustainable manufacturing vision.
"This is an exciting opportunity for Cranfield researchers to share their expertise in sustainable manufacturing processes, systems and business models in order to help CCE in their mission to achieve best-in-world manufacturing for the future," Mr Jolly said.
"We hope that Cranfield's cross-sector vision and experience as well as its extensive network of contacts   will be invaluable for CCE in its vision for lower energy, reduced materials usage and lowest CO2 footprint in its manufacturing plants. During this project CCE will support a number of masters' research projects. Working with large companies such as CCE also gives our students an enhanced experience with real opportunities for development of their skills thus making them highly employable."