Rockwell Automation, the world's largest company dedicated to industrial automation and information, has introduced a HART-enabled Allen-Bradley FLEX I/O-XT module that helps OEMs and end users reduce wiring, installation time and enclosure costs.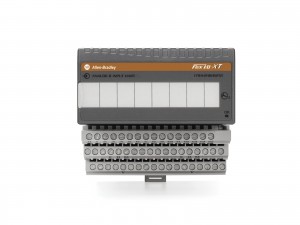 According to the press release by Rockwell, the new HART-enabled I/O extreme environment modules are rated for -20 to 70°C and are compatible with the ControlLogix-XT™ extreme environment system, which enables the modules to access performance data from smart field devices that were previously isolated in harsh environments and feed them into an asset management software for a more holistic view of operations and maintenance needs.
The FLEX I/O-XT modules are conformably coated to protect against corrosives, dust, gases, salt, condensation, humidity and fungal growth, which eliminates the need for an enclosure and additional installation, while slashing energy costs associated with auxiliary heating and cooling systems.
"The industrial coating to protect from airborne pollutants and moisture, paired with a minus 20 C to 70 C temperature range, make the FLEX I/O-XT modules ideal for environmentally demanding environments, including energy and power generation, water/wastewater and on-ship applications," reads the press release.
"FLEX I/O modules remain one of the top selling distributed I/O platforms today. The HART-enabled FLEX I/O-XT module further strengthens our portfolio, and is an ideal fit for the Integrated Architecture and PlantPAx applications from Rockwell Automation with extreme environments," said Chan Wai, product manager, Rockwell Automation.
For more detailed information, go to www.rockwellautomation.com