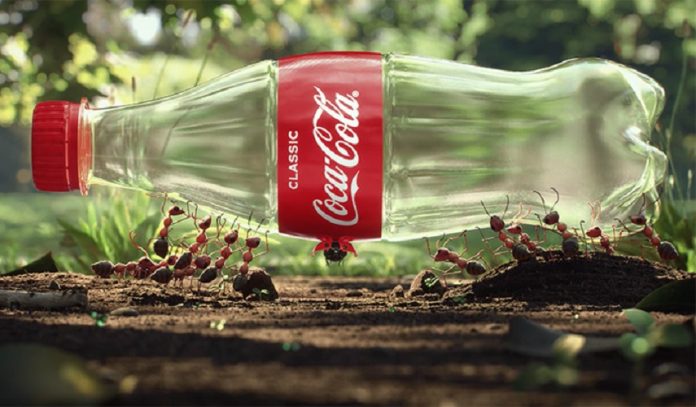 Coca-Cola Australia and Coca-Cola Amatil have announced that all Coca-Cola soft drink and water brands (600ml and below) in Australia are now being produced in 100% recycled plastic bottles.
The move forms part of Coca-Cola Amatil's commitment to make 7 out of 10 plastic bottles from 100% recycled plastic by the end of 2019, with the company's juice and dairy brands on track to transition and complete the goal before the end of the year.
In addition to committing to this landmark sustainable packaging initiative, Coca-Cola Australia has also ramped up its efforts to promote recycling to all Australians by announcing its sponsorship of Planet Ark's National Recycling Week, now in its 24th year.
Coca-Cola Australia's Director of Sustainabilit, Mr Russell Mahoney, said Coca-Cola's move to recycled plastic will significantly reduce the environmental impact of its operations; ensuring plastic from existing bottles is repurposed, while decreasing demand for new plastic.
"The plastic waste crisis is one of the most pressing issues of our time – one that we're committed to help solve," Mr Mahoney said.
"We know actions speak louder than words, which is why together with Coca-Cola Amatil we have made a landmark investment in recycled plastic in Australia to help support a viable domestic recycling economy.
"The other important piece of the puzzle is supporting initiatives that encourage Australians to recycle, which is why we're proud to be working closely with Planet Ark as the major sponsor of National Recycling Week."
Peter West, Managing Director of Australian Beverages at Coca-Cola Amatil, said the company is well on track to meet its target of bringing the total use of recycled plastic to 16,000 tonnes this year.
"Earlier this year we took our strongest step forward in reducing packaging waste by making recycled plastic the norm in 7 out of 10 products in our portfolio," Mr West said.
"Today we are well on track to meet that target and become a market leader in innovation as the first country in the world where all Coca-Cola bottles 600ml and under are made from recycled plastic."
Ryan Collins, Head of Sustainability Resource Programs at Planet Ark and spokesperson for National Recycling Week said Coca-Cola is leading the way and taking responsibility for the end of life of its products.
"Just like Planet Ark, Coca-Cola does not want to see valuable resources go to waste. It's a perfect match for National Recycling Week, and we're thrilled to be working together for the first time this year," Mr Collins concluded.
Image credit: https://www.coca-colacompany.com/