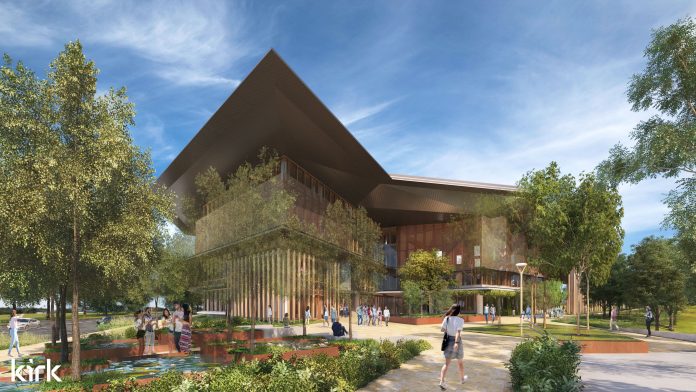 James Cook University (JCU) has secured a $96 million NAIF loan to fund the construction of its new Technology Innovation Complex (TIC), which is expected to create hundreds of new local jobs.
The four-storey, 9,400m2 TIC will be the centrepiece of an innovation hub in which undergraduate and postgraduate engineering and IT students, industry partners and researchers will converge and collaborate.
Minister for Resources, Water and Northern Australia Keith Pitt said the new complex – to be located on Mount Stuart Street, adjacent to the new student accommodation – will link innovation with specialised skills and expertise.
"The Technology Innovation Complex project is expected to create around 300 construction jobs and more than 500 other jobs, with at least 80% of subcontractors and suppliers locally sourced, and it is part of the wider redevelopment of the JCU Townsville campus," Minister Pitt said.
"With NAIF support, the University is undertaking projects to rejuvenate the campus and to make sure JCU remains a great place for students, for research and for innovation."
Assistant Minister for Northern Australia Michelle Landry said the NAIF is also supporting the new student accommodation building – which is currently under construction – through a $46 million loan.
"NAIF continues to support crucial projects and jobs across our north, with around 80 per cent of subcontractors and suppliers for the Technology Innovation Complex to be sourced locally," Assistant Minister Landry said.
"The new facilities will help attract more students from regional Australia, and from overseas, to study engineering in Townsville, providing more opportunities and supporting our northern economy."
Vice Chancellor Professor Sandra Harding said the TIC will deliver leading-edge STEM (Science, Technology, Engineering and Mathematics) innovation, research and educational facilities for northern Queensland.
"It will be the focal point of an innovation hub that will transform the Townsville campus, and will seamlessly link with the JCU Ideas Lab in Cairns as the 'combined home' for JCU innovation and digital transformation activities," Ms Harding continued.
"We are delighted construction of this exciting project will soon begin."