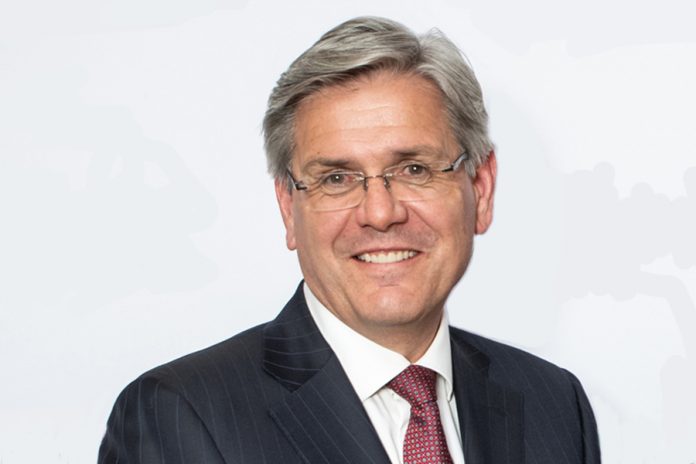 Article by Jeff Connolly, Chairman and CEO of Siemens Australia & Pacific
On the scale of things, 'team Australia' have done a remarkable job in managing COVID – both in terms of health and economic outcomes compared to other countries. But now we need to secure a predictable operational model by employing best technologies in order to reopen the borders … safely.
It's time for Australia to really come together, rather than focus on different politics and agendas. This has been no more clear than in recent days and weeks as we continue to highlight the quarantine issue and returning citizens and as Victoria again enters a seven day lockdown. Clearly COVID will remain an important topic – even as we reach higher levels of vaccinations. In fact our health authorities have made it apparent that even once we are fully vaccinated there is every expectation that we will need to continue booster shots to keep virus variants at bay.
Should we open our borders or not?
I have had conversations with people I respect who vehemently argue the need to bring Australian citizens back to Australia as quickly as possible. They have very sound arguments. On the flip side, I have other people I really respect who vehemently argue the need to keep people away from the country because of the risks to our health and economy of the pandemic and unknown strains. Both sides are correct. This is a really complex issue that needs people to come to the table in a respectful manner and work out a way forward that is positive for everyone.
It starts with finding the common ground
The common ground is that we should look for what is in the best interests for Australia. Most would agree in the following:
Keeping our citizens (abroad and at home) safe
Having safe and free movement around the world
Creating a prosperous and healthy nation
Providing as much freedom as possible so Australians can enjoy life and our cities can continue to have their high status of livability
For governments this has become difficult to achieve. And nobody could really predict properly or fully the current global situation with COVID.
Given Australia's success with COVID, what's wrong with how we're managing it now?
Australia is in an enviable position when it comes to COVID in terms of our global standing – both in terms of health and in terms of economy. However, it has come at a cost. Typically, community spread of COVID comes down to quarantine issues from returning citizens or travelers. Our ability to track and trace varies from state to state. The method to manage COVID outbreaks often includes harsh measures such as lockdowns. Even a single case can generate restrictions such as a state-wide lockdown and interstate travel bans. Although effective from a COVID spread point of view, this isn't popular because we all value our freedom and mental health. And the economic impact is significant to say the least. Put simply, lockdowns can't be a long-term solution for Australia managing COVID. The AiGroup has calculated that a 7 day stoppage such as this is likely to cost billions of dollars. Multiply
this by all the lockdowns and it's just not a long-term sensible solution – especially when there are strong alternatives.
So what is the long-term solution? How do we meet all of the objectives in the common ground that I outlined above?
If the source of COVID comes from people coming to Australia from overseas and then somehow escaping our current quarantine system, and if you still want people coming from overseas, then the answer is to make sure our quarantine system is airtight. Not just in
health procedures but even more importantly in purpose-built hi-tech quarantine facilities which incorporate technologies that prevent or kill the spread of the virus and allow us to safely return people. There is a broad range of digital services and technologies that support healthy buildings and could be employed into a purpose-built smart quarantine solution. Below are just some of the technologies available today.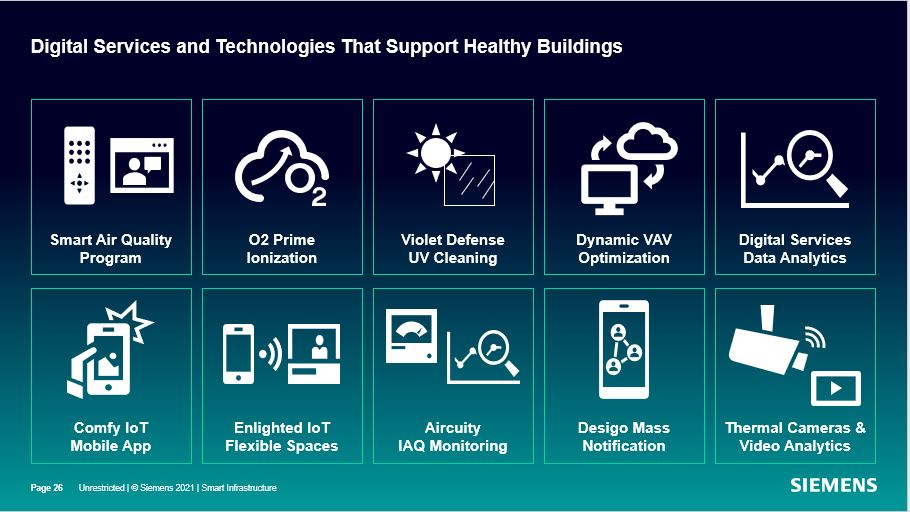 Hotel quarantine and moving to a smarter long term approach
To date we've essentially taken standard hotel infrastructure and made them our new quarantine facilities. This was OK for an interim measure and in fact was necessary. But it certainly hasn't been an airtight solution. Some people have talked about mining huts in remote sites. This low-tech approach is not the solution either. We can do much better than this and we need a much smarter approach. An approach that employs intelligent infrastructure (which already exists) and an approach that not only protects us against the spread of the virus and against the multi-billion dollar economic costs, but one that actually has the potential to form a new industry, skills, jobs and exports for Australia.
There are comprehensive technology solutions available today. Below is a small snapshot only of our 'Smart Air Quality Program'. There are many other existing technologies that would go into a smart technology driven quarantine solution.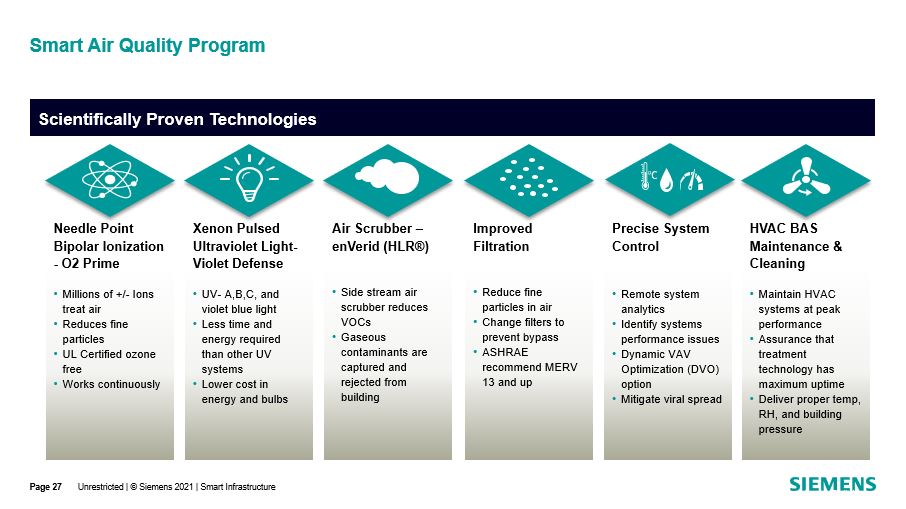 Why don't we have this already?
The answer to this actually doesn't matter right now. I'm less interested in this than I am in coming up with a solution that is in the best interests of all of Australia.
What I do know is that we can build hi-tech smart quarantine solutions …now
The intelligent infrastructure technologies already exist to build a world class quarantine solution – including everything from heating, ventilation and cooling which has antibacterial and UV filtration, positive airflows, integrated IOT building management systems that can intelligently monitor and sensor almost anything in and outside of a building, hitech bio security access systems, apps and wearable devices that support effective tracking and tracing, systems that could interact intelligently with healthcare providers by employing Industrial internet of things technologies, and more.
The digital twin approach
A solution can be designed and built digitally before the first shovel hits the dirt so we can eliminate risk and maximise outcomes. Advanced industry and manufacturing already takes this approach and I've talked about this many times before as being part of Industry 4.0 – Germany's term describing the fourth industrial revolution.
The vision would be to design and build a purpose-built world class quarantine facility and system that can not only allows Australia to properly manage COVID and bring people safely back into the country, but one which also has the potential to stimulate economic growth with new industries and skills that could be exported to the world.
And beyond the purpose-built quarantine solution, we also have a longer term need to introduce healthy building technologies to our cities generally to improve city resilience, confidence and prosperity – but this is for another discussion.
Building 4.0 CRC Q_Smart technology led quarantine solution.
Chaired by Dr Bronwyn Evans, Building 4.0 CRC is proposing a hi-tech quarantine solution called Q_Smart.
Q_smart proposes a technology-enabled building and service delivery quarantine solution: a comprehensive, integrated system comprising a suite of processes, tools and products that are highly flexible and scalable for use in different locations, nationally and globally. The building solutions are factory-made and can be assembled to suit a range of site conditions and requirements. The structures are easily dissembled and can be relocated and repurposed for other applications (bushfire relief or affordable housing for example).
Do we have a business case?
COVID is not going away and undoubtedly the business case for Australia to invest in such a solution is as clear as daylight. There is technology that can achieve this. There are people with skills in Australia to embark on this. There are suitable locations. And of all the world, Australia is in the best position to now rapidly focus on and invest in this