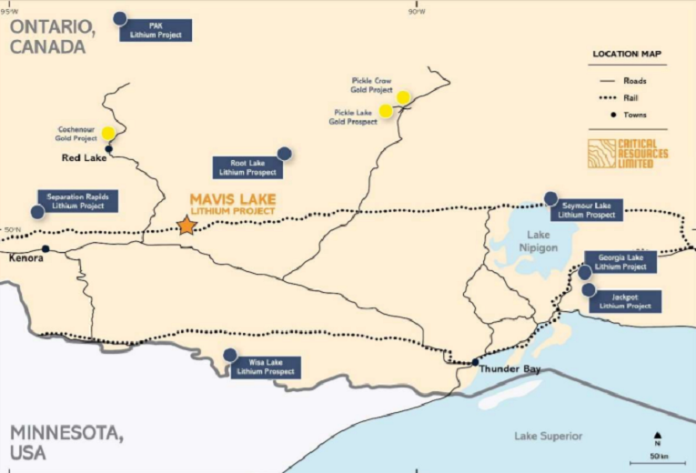 Western Australia's Critical Resources has completed the acquisition of Mavis Lake lithium project in Ontario, Canada.
The Mavis Lake Project is located 19 kilometres east of Dryden, Ontario.
Final approval was granted by the Investment Review Branch of Canada and shareholder approval was received at the company's general meeting in December.
According to the official announcement, the approvals allow for the kick-off of an aggressive exploration strategy to begin targeting battery-grade lithium.
"We are very excited to complete the acquisition of the Mavis Lake lithium project. We have no doubt that the Project will add significant value to the business moving forward," said Critical Resources Managing Director Alex Biggs.
Our strategy in 2022 is to begin exploration drilling as soon as possible once permitting is completed. We have multiple targets to explore with a view to achieving, over time, the milestones set out by the vendors of 5.0 million and 10.0 million tonnes."
The company will pay A$1.50 million cash and A$1.50 million in fully ordinary paid shares, as well as another A$1.50 million in cash, "following the definition of a Mineral Resource Estimate (as defined in the JORC Code 2012) for the Project with a volume of not less than 5.0 million tonnes containing not less than 50.000 tonnes of Li2O using a cut-off grade of note less than 0.4% Li2O."
A further A$1.50 million in cash will be paid "following the definition of a Mineral Resource Estimate Estimate (as defined in the JORC Code 2012) for the Project with a volume of not less than 10.0 million tonnes containing not less than 100.000 tonnes of Li2O using a cut-off grade of note less than 0.4% Li2O."
Image credit: https://www.asx.com.au/asxpdf/20220105/pdf/454r9x4w8r93d1.pdf