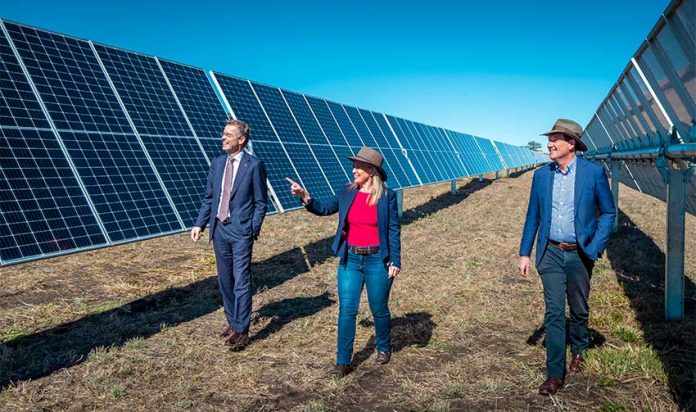 CS Energy has signed an offtake agreement to purchase a proportion of the renewable energy produced at the University of Queensland's 64 megawatt Warwick Solar Farm.
The $125 million Warwick Solar Farm will be able to generate about 160 GWh per year – the equivalent of powering more than 25,000 households or reducing coal consumption by more than 60,000 tons.
The energy generated at the solar farm is being used by UQ to offset its own energy needs. Any surplus of energy goes into sale in the market, a portion of which will now be supplied to CS Energy. The energy provider will also be supporting UQ's energy ambitions by providing retail administration and hedging services.
In a statement CS Energy said it will pass the benefit of the renewable energy from the solar farm on to their Queensland Government customers, as part of their energy supply agreement with large Queensland Government sites.
CEO Andrew Bills said CS Energy was excited to be adding further renewable energy to its portfolio to support customer requirements.
"Our supply agreement with the Queensland Government includes a renewable allocation as well as energy from CS Energy's thermal generation assets," Mr Bills said.
"We're proud to offer these kinds of tailored energy solutions to our customers and support the Queensland Government's target of 50 per cent renewable energy generation by 2030."
In July UQ Vice-Chancellor and President Professor Peter Høj said the new solar farm will support the research and development of innovative new energy solutions such as emerging battery energy storage and hydrogen conversion technologies.
"This isn't just an economic choice; industry and government look to us for expertise and leadership in renewable technologies and this asset will support a wide range of current and emerging research and industry partnerships across a broad array of disciplines," Mr Høj said.
Image from CS Energy