The Commonwealth Scientific and Industrial Research Organisation (CSIRO) and the Energy Networks Association (ENA) have partnered to deliver an Electricity Network Transformation Roadmap.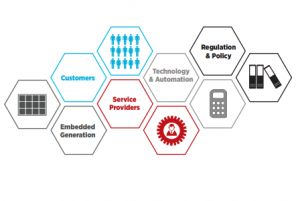 The Roadmap will transform the electricity network industry over the next ten years to unlock additional value for customers and accommodate the rapid adoption of new technologies.
"The Roadmap is designed to identify the preferred transition which the electricity network industry must make in the next decade, to be ready to support better customer outcomes under a diverse range of long-term energy scenarios," reads the Roadmap overview.
"By setting out a pathway for the transition of electricity networks by 2025, the Roadmap seeks to position network businesses and the whole energy supply chain for the future, to support the evolving needs of customer, innovate and develop new services that customers value and foster the long-term resilience and efficiency of Australia's energy system.'
The Roadmap development process will facilitate co-operation between existing and new market participants across the energy supply chain, including consumer representatives, service and technology providers, policy makers, regulators, and academia.
According to the joint press release by ENA and the CSIRO, the Roadmap framework involves five Domains, each including a number of Work Packages:
Customer Oriented Networks, assessing Transformation Drivers, the reorientation of network services to customers and potential services of the future;
Revenue and Regulatory Enablers, reviewing potential revenue & business models, along with regulatory frameworks & mechanisms;
Pricing & Behavioural Enablers, addressing tariff reform and support for vulnerable consumers;
Technological Enablers, supporting integration of distributed energy resources; network asset utilisation; grid-side technologies & capabilities; and
Next Generation Platform, examining new models for market operation and automation.
ENA and the CSIRO said the work program will be focusing on:
  creating new customer value through service innovation anticipating customer-oriented energy futures;
  informing Australia's electricity system evolution including its policy and regulatory frameworks;
  providing network businesses with capacity and resources to support innovation;
  enhancing long-term asset productivity for both traditional and new value-creating applications;
  maximising collaboration and shared learning to focus on key knowledge gaps and barriers impeding network transformation.