A new advanced manufacturing and design centre has been officially opened at Swinburne University that is set to provide students and researchers alike with an opportunity to use the latest manufacturing and design technologies.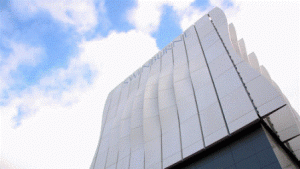 The Advanced Manufacturing and Design Centre (AMDC) was officially launched by Senator Scott Ryan, the Parliamentary Secretary to the Minister for Education and Training.
Designed by Wilkinson Eyre Architects, in partnership with Jacobs Australia, AMDC is an 11-storey building that has laboratories, lecture theatres, workshops, office accommodation, display areas, an industry-engagement office suite and also hosts the so called Factory of Future which will focus on research and collaboration on new technology and innovation in manufacturing.
Swinburne's new Factory of the Future will provide industry and organisations with state-of-the-art facilities to explore conceptual ideas for manufacturing next generation products.
"For Australia's industries to prosper, we need to bring together imaginative ideas with technological knowhow. The Advanced Manufacturing and Design Centre will help make that happen. This building is a space for collaboration," said Swinburne University of Technology's Vice-Chancellor, Professor Linda Kristjanson.
AMDC was built with the support of the Commonwealth Government through its Education Investment Fund.
"The experience students will gain, the relationships industries will forge, and the research that our academics will conduct in this space is only the beginning of what I believe is an exhilarating road to discovery," said Professor Linda Kristjanson.
Swinburne's Australian Research Council (ARC) Training Centre in Biodevices was also celebrated at the launch of AMDC. The Centre will make use of cutting-edge manufacturing and design capabilities to produce innovative medical technologies and nurture the future leaders of the medical device industry.