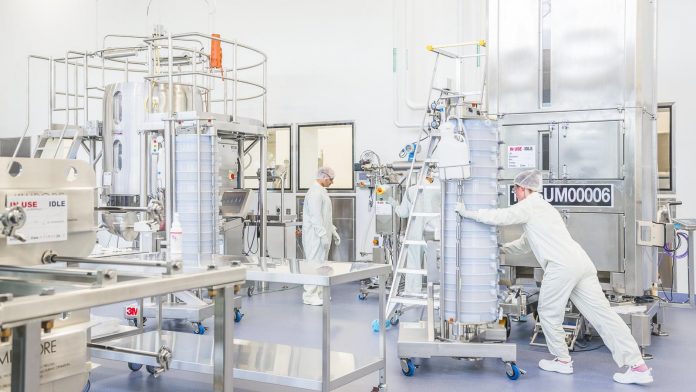 As demand for vaccines ramps up, the blood products giant has taken on the enormous task of manufacturing COVID-19 jabs – and so far, the gains profit-wise are better than expected.
Melbourne-based biotechnology company CSL Ltd (ASX:CSL) saw its fastest profit and revenue growth in years as the company announced plans to accelerate the manufacture of the Oxford University/AstraZeneca COVID-19 shot to meet demand.
The AstraZeneca vaccine received approval from the TGA earlier this week.
While the Government has ordered 4 million jabs of the AstraZeneca vaccine, about 50 million more will be manufactured onshore at CSL's facility in Broadmeadows, Melbourne.
Manufacturing of the first doses is underway, with doses expected to reach vaccination centres by late March this year.
CSL's net profits jumped 45 per cent to $US1.8 billion ($2.3 billion), while revenues rose to $US5.7 billion for the six months to December 31, beating initial analysts expectations, the company reported in its half year results released earlier today.
"I am pleased to report a strong result in an unprecedented time of uncertainty during the most severe pandemic of our lifetime," said Paul Perreault, CSL chief executive officer and managing director.
The company's vaccine producer Seqirus saw its sales jump by 38 percent to $US1.4 billion due to record demand for the Seqirus influenza jab in parallel to COVID-19 vaccine development.
"Our influenza business Seqirus delivered an exceptionally strong performance, more than doubling earnings before interest and tax to $693 million," Perreault added.
Driven by exceptional performance in its seasonal vaccine division, CSL also revealed plans to construct a next-generation influenza vaccine manufacturing facility.
Perrault said the "state-of-the-art" manufacturing facility, which is set to be the only cell-based influenza vaccines facility in the Southern Hemisphere, will produce influenza vaccines for use in both pandemic and seasonal vaccination programs.
On the flip side, the pandemic has introduced new challenges to the collection of plasma, an essential component of several specialty products used to treat blood disorders.
"Our plasma collections have been adversely affected during the pandemic," Perreault explained.
"To combat this, we have implemented a number of initiatives to increase plasma collections and introduced a customer fulfilment process to ensure the equitable distribution of medicines to patients."