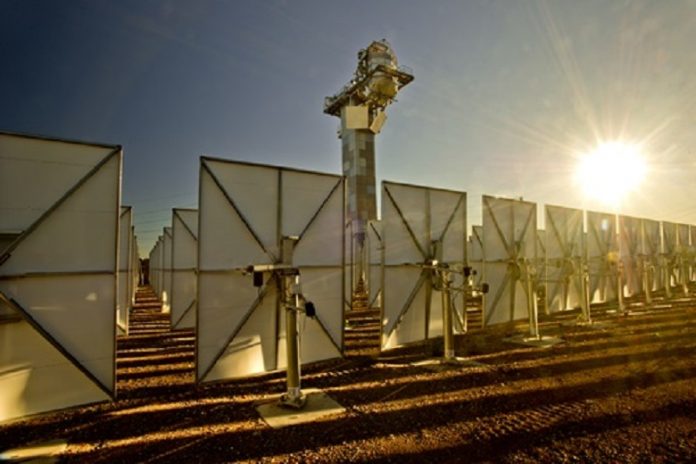 The US government will fund a commercial-scale test of a next-generation concentrated solar thermal (CST) technology developed in partnership with the Australian Solar Thermal Research Initiative (ASTRI). 
Developed with input from CSIRO, the Australian National University and the University of Adelaide, the falling particle CST technology converts sunlight into stored thermal energy, by heating particles to well over 700 deg C.
This thermal energy can then be used to power a turbine, generating on-demand electricity at any time of the day or night.
Minister for Energy and Emissions Reduction Angus Taylor said the technology has applications for power generation and heat processing across mining, mineral processing, chemical processing and other high temperature industrial processes.
"Australian research is opening up new ways to generate clean electricity and reducing emissions around the world," Minister Taylor continued.
"The technologies Australia is developing, and the Government is supporting, will deliver global benefits.
"Australian-developed solar cell technology is already used in more than 60 per cent of commercial solar panels globally.
"Zero emissions, dispatchable energy sources like concentrated solar thermal storage will be needed to back up increasing shares of renewable energy."
The falling particle technology was developed by US based Sandia Laboratories, which will receive $33 million from the US Department of Environment to build a 1MW demonstration plant with a minimum of 6 hours of storage.
CSIRO, through ASTRI – a ten-year, $100 million international research collaboration funded (50 per cent) by ARENA – has also built its own pilot-scale falling particle system in Newcastle which will be tested for the first time in coming weeks.
"We are delighted that our US colleagues have selected this technology as the pathway forward for CST technology," said Wes Stein, ASTRI Chief Technology Officer and CSIRO Solar Thermal Research Manager.
"We have been working closely with the US for several years on the next generation of CST technology and the US decision reflects our efforts and recognises Australian contributions to the development of this system."
Image credit: https://www.csiro.au/en/news/News-releases/2021/CSIRO-plays-part-in-US-next-gen-solar-thermal-technology