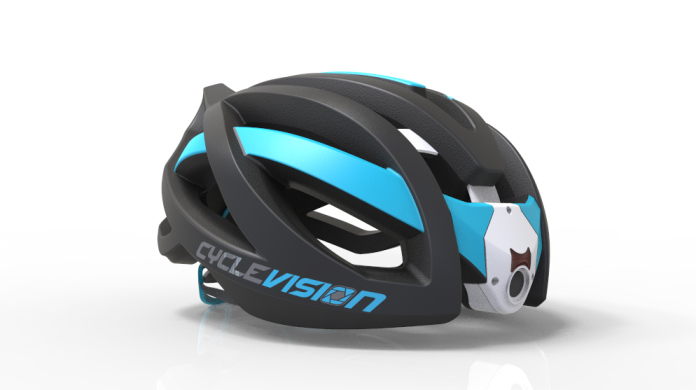 Cairns-based startup Cyclevision has been awarded a $100,000 Advance Queensland Ignite Ideas grant to commercialise a new bicycle safety helmet featuring inbuilt Wi-Fi technology and live-time rear-vision streaming.
Cyclevision 'smart helmet' is capable of giving riders advance warning of impending collisions by transmitting high definition live streaming from the rear camera to the cyclist's smart phone.
The smart phone can be mounted hands-free on the handlebars, providing a wide angle, electronic rear view mirror.
Innovation Minister Leeanne Enoch tipped this world-first innovation to safe many lives  in the future.
"Bicycle riders are vulnerable road users, and the number of cyclists hospitalised as a result of road incidents nationally has been increasing by about four per cent each year," Ms Enoch said.
"But with enough warning, a cyclist may be able to take the necessary action to avoid a collision, especially with vehicles approaching from behind and this smart Cyclevision helmet is a great solution."
Rob Asker, who co-founded Cyclevision with his wife Suzanne, said the front and rear cameras – both of which record simultaneously onto twin micro data storage cards – are embedded in the structure of the helmet along the centreline.
"This is the Holy Grail for cyclists worldwide – forward and rear camera systems recording high-definition vision and sound simultaneously, with the added ability to display the rear vision in live time," Mr Asker said.
"Both cameras record 160 degrees wide and 140 degrees high views front and back, with their positioning designed to accommodate the downward-facing angle of the head which most riders tend to adopt on long hauls."
He said the helmet's developmental journey has taken several years and wiped out their life's savings.
"Fortunately, we've managed to attract some fantastic investors to our cause, and we are truly grateful for their support and patience over the life of this project," Mr Asker continued.
"There's strong demand from cyclists around the world for this type of product. Our market research is telling us that we may need to scale our supply chain rapidly in our first year."
Cyclevision expects its first batch of 500 helmets to arrive next month.