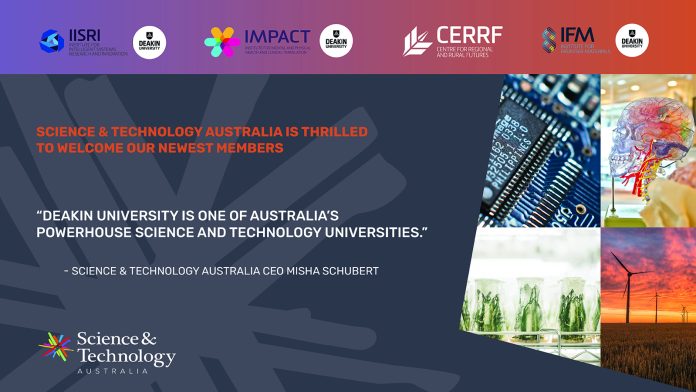 Deakin University has joined Science and Technology Australia (STA), Australia's peak body that represents more than 90,000 scientists and technology experts.
Deakin said four of its research institutes and strategic research centres joined Science & Technology Australia (STA).
They are:
Institute for Frontier Materials (IFM)
Institute for Intelligent Systems and Research (IISRI)
Institute for Mental and Physical Health and Clinical Translation (IMPACT), and the
Centre for Regional and Rural Futures (CeRRF).
Deputy Vice-Chancellor Research, Alfred Deakin Professor Julie Owens said the new collaboration will enable Deakin to further strengthen its research networks and share its expertise in science, technology, engineering and mathematics (STEM) research with a broader range of key stakeholders.
"This partnership will enable us to build on our ongoing successes in STEM that have contributed to Australia's science and technology capabilities," Professor Owens said.
"From pioneering space and defence technologies to innovative mental health solutions, we look forward to sharing our expertise across STA's networks.
"We are excited to partner with STA who also will provide key opportunities to train and upskill Deakin researchers in policy engagement and communication, and to help us continue to forge valuable research networks and collaborations across the sector."
Science and Technology Australia CEO Misha Schubert welcomed Deakin University as CTA's newest member.
"Deakin University is one of Australia's powerhouse science and technology universities," Ms Schubert said.
"Its impressive leadership in science, technology and engineering is at the very forefront of solving big challenges including in manufacturing, drought resilience, robotics, space and defence technology, health, clean energy and new job creation."
According to Deakin's statement, the partnership also includes gold sponsorship of STAs annual 'Science meets Parliament' initiative – Australia's most powerful vehicle for deep engagement between the STEM sector and policymakers.
Image credit: https://scienceandtechnologyaustralia.org.au/sta-welcomes-four-inspiring-new-members/