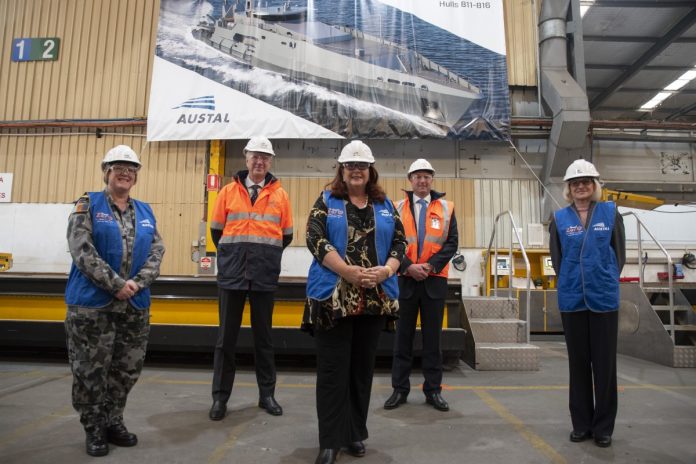 Australia's Defence Industry Minister Melissa Price officially 'cut metal' on the second of six new Cape-class patrol boats to be constructed by Austal Australia for the Royal Australian Navy (RAN).
It follows the award of the A$324 million contract for six Cape-class Patrol Boats, announced on 1 May 2020 by Ms Price and Defence Minister Linda Reynolds.
Austal CEO David Singleton noted that the plate cutting was completed less than 12 weeks after the contract announcement.
"With a hot production line, already constructing two Capes for the Trinidad and Tobago Coast Guard, our shipbuilders have quickly progressed to cutting metal on the second of six Capes for the Navy," Mr Singleton said.
"It's a fantastic example of the efficiencies that can be achieved by a skilled and experienced local workforce supported by our proven Australian supply chain.
"These new Capes for the RAN are helping to boost Australian sovereign shipbuilding capability, through the continued engagement of more than 700 Austal employees here in Western Australia and more than 1,000 suppliers, Australia wide."
The new RAN Capes, which are based on Austal's 58 metre aluminium monohull patrol boat design, include a number of enhancements that further extend the capability of the vessel and the fleet. According to Austal, crew accommodation has been increased to 32 and 'quality-of-life' provisions have been enhanced, ensuring those who operate the new Capes have WIFI connectivity to the outside world regardless of the operating environment.
Austal expects the first of six Capes to be delivered in September 2021, with the remaining vessels to be delivered through to mid-2023.
Image credit: https://www.austal.com/