Growing online shopping demand saw postal, courier and larger retail organisations face more express parcel volume than ever before, compelling them to seek improvement in performance and throughput by introducing automatic sortation systems.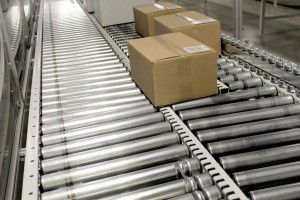 To answer these demands, Dematic – a supplier of logistics systems for the factory, warehouse and distribution centre – introduced a new carton singulator designed to help express parcel services better meet the ever increasing demand from consumer online shopping.
Compared with other available systems, the Dematic singulator is smaller in size, features less individual moving parts and has the ability to be integrated with current systems, which makes it a very cost effective addition to many automated sortation systems.
It aligns skewed and side-by-side cartons – without the need for manual human intervention – for proper orientation in single file prior to sorting and automatic unloading. Automatic alignment optimises the speed and throughput of the conveyor and sortation system.
The Dematic singulator's flexibility allows it to be retrofitted to an organisation's existing conveyor and sortation system, or implemented with new systems. Because the singulator is modular, compact and only measures seven metres in length, it can also be installed into sortation systems provided by other suppliers.
"The singulator improves carton orientation and alignment, which results in optimised performance of the downstream sorter. Using this carton alignment solution will also improve merge performance and maximise system uptime," said Sean Ledbury, Dematic's Manager for Parcel Systems.
"This performance is crucial in industries like express parcel which are responding to increased online purchasing by consumers."
The carton singulator is available now and Installation can occur during off-shift timeframes so daily operations are not affected.