Wiley, Australia's leading food manufacturing specialist in integrated facility engineering, has signed a deal with GrainCorp Foods to upgrade the company's existing operations in West Foodscray, Victoria, into a world-class processing plant featuring extra capability including retail spreads, bakery fats, and shortenings.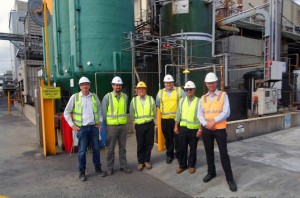 The undertaking is part of a wider initiative by GrainCorp Oils aimed at integrating its edible oils and spreads manufacturing operations to increase its competitiveness and reduce carbon emissions by around 25,000 tonnes per year.
The initiative involves relocating GrainCorp Foods' processing and packing operation in Murrarie, Queensland, to its existing operation in West Footscray, Victoria, as well as GrainCorp Oilseeds' existing operation in Numurkah, Victoria. In turn, these operations will be expanded and upgraded to accommodate the additional capacity.
Wiley Managing Director Tom Wiley said the design for West Footscray upgrade aligned with the company's wider integration objectives.
"We are excited to work with GrainCorp again, reinforcing our commitment to developing strong and long term relationships with our clients. This project also highlights our renewed focus this year to build on our existing portfolio of successful projects in the food and beverage industry, and broader manufacturing industry, in Victoria," Mr Wiley said.
"GrainCorp's West Footscray upgrade is a vital piece of the wider integration project, which will significantly reduce operational costs and boost the competitiveness of locally-produced food and food ingredients against imported products."
GrainCorp said the move will ensure greater integration of processing and packing operations from Queensland, to Victoria and New South Wales and reduce the trucking distance of the final product by 550,000 kilometres per year to customers mostly based in Melbourne and Sydney.
"The project delivers a logical and more efficient focal point for the sourcing, crushing, refining, and distribution of GrainCorp's locally-produced edible oils and food ingredients. We're pleased to welcome Wiley on board to assist us in the design and construction of the upgrade to our West Footscray facility," said GrainCorp Oils Group General Manager Sam Tainsh.
"GrainCorp has successfully worked with Wiley on a previous project. Their expertise in complex food manufacturing facilities made them the right fit to undertake this project. Consumers will benefit significantly from the integration of all our operations, as the increase in efficiency will ensure we are able to continue producing Australian-grown canola and other oilseeds, and therefore continue supplying associated retail products, which are increasing in demand."