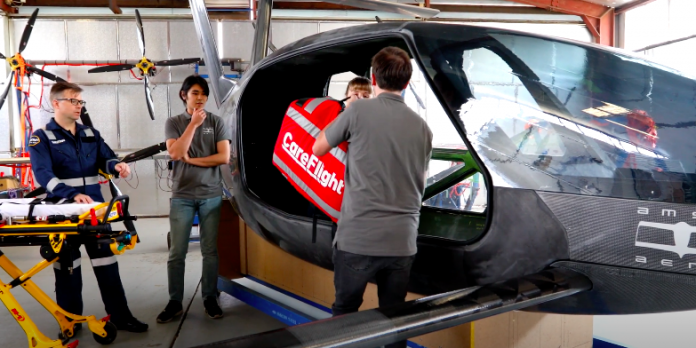 Media Release
Electric-powered 'aero-ambulances' that safely transport emergency patients from rural and regional areas to hospitals will become a reality in the next few years.
Start-up company AMSL Aero, in collaboration with research partner the University of Sydney, autonomy and sensing specialists Mission Systems, and Australian aeromedical company, CareFlight, has developed Vertiia, an electric vertical take-off and landing (eVTOL) aircraft.
Due for commercial release in 2023, Vertiia will be the world's most efficient eVTOL aircraft for passenger and aeromedical transport.
Launched today at Bankstown Aerodrome by Deputy Prime Minister Michael McCormack, Vertiia is the result of a $3 million federal government Cooperative Research Centres Projects (CRC-P) grant.
Deputy Prime Minister McCormack said: "What we're seeing here today is a revolution in aeromedical support. In the Northern Territory, for example, an aircraft that travels at 300 kilometres per hour, as Vertiia does, can reach 98 per cent of the population. What [Vertiia creator] Andrew Moore is doing is saving lives."
The invention is in line with the government's recently released National Aviation Policy Issues Paper on Emerging Aviation Technologies, which encouraged the uptake of drones and electric vertical take-off and landing (eVTOL) vehicles by industry.
Andrew Moore, Founder & CEO of AMSL Aero, explained the key benefits of the aircraft: "Its low operating cost and high speed will reduce rural and regional road trips, reduce transport fatalities, and reduce the cost of maintaining and building new transport infrastructure.
"Vertiia's use of hydrogen [in addition to electricity] will put us at the forefront of de-carbonised transport development globally. It will also provide air transport that is resistant to global oil price fluctuations and interruptions."
Vertiia is currently piloted, yet the team is working on technology to make it autonomous, to provide landing capabilities in low visibility and bad weather.
University of Sydney Deputy Vice-Chancellor, Professor Duncan Ivison said: "We are incredibly excited to be collaborating with AMSL Aero on the development of Vertiia, a technology which has the potential to rapidly de-carbonise air travel and improve patient transport.
"'The collaboration between the University, AMSL Aero, CareFlight, Mission Systems, [intellectual property commercialisation company] the IP Group and the Commonwealth government's CRC-P scheme is an exemplar of the kind of collaboration we need to drive innovation in Australia.
"Leading the project from the University of Sydney is Associate Professor Dries Verstraete and his team, who are deep experts in hydrogen fuel cell propulsion and multidisciplinary optimisation."
Associate Professor Verstraete, an aerospace engineer, is leading the effort to increase the aircraft's efficiency and reduce overall operating costs.
"My team has used computers to design and algorithms to optimise the aircraft structure and its propellers. This will ultimately allow AMSL Aero to reach their ambitious range and speed targets for Vertiia," he said.
Vertiia has been designed to travel efficiently from point-to-point. It will cruise at a speed of 300 kilometres per hour; twice the speed of a helicopter, and similar to that of an airplane.
It is far safer than helicopters and is significantly quieter than combustion engine aircraft like helicopters – similar to Teslas versus regular cars.
Associate Professor Verstraete said: "Regional and remote patient transfer can often be complicated and slow: often, patients must be taken to the airport in an ambulance, transferred onto a plane, and then back into another ambulance, whereas Vertiia aims to transfer patients from door-to-door."
CareFlight's contribution
Project partner CareFlight, believes the innovative technology will bring significant benefits to patient outcomes: with Vertiia, clinical services can be delivered faster, particularly in conditions adverse to traditional aviation such as poor weather and unprepared landing sites in remote areas.
The company's General Manager of Operations, Craig Gibbons, said: "CareFlight's long history of innovation and advancement in aeromedical solutions goes back more than 30 years. Vertiia's use of hydrogen power – and future use of pilotless aircraft technology – is ingenious. The solution will be of great benefit to patients, and with its tiny carbon footprint, has the bonus of being great for the planet."
Vertiia test flights will take place at its facility in Narromine Airport in regional New South Wales.
Image credit: CareFlight's YouTube Channel