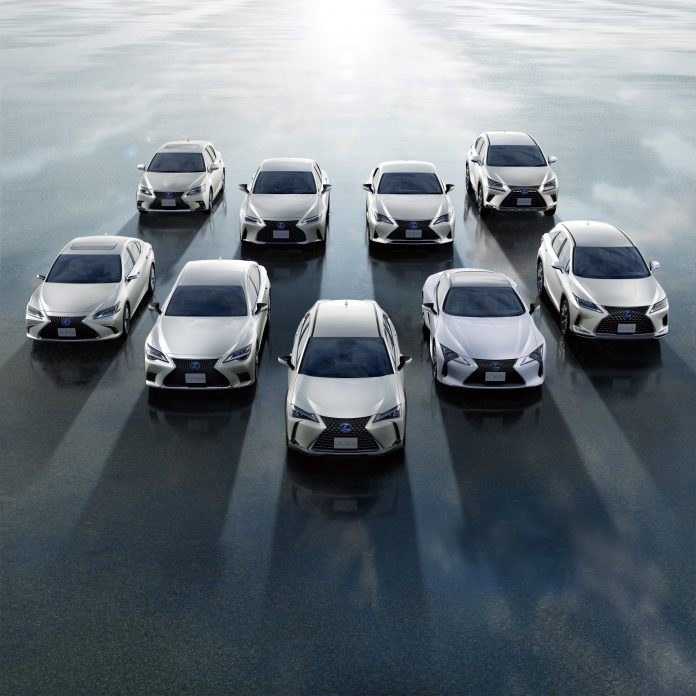 Media Release
Lexus has eclipsed the major milestone of two million global sales of electrified vehicles by the end of April 2021, reflecting a commitment to the reduction of CO2 emissions across a significant number of luxury segments.
This commitment will continue with confirmation that Lexus International will reveal the first Lexus plug-in hybrid electric vehicle (PHEV) in 2021, and the first Lexus battery electric vehicle (BEV) on a dedicated platform in 2022.
By 2025, Lexus International will debut 20 new or improved models, including more than 10 BEVs, PHEVs, and hybrid electric vehicles (HEVs). In the same year Lexus International will make available an electrified version of every model line.
The future expectation on a global level is that sales of electrified models will exceed that of the petrol/diesel-only variety.
Since the launch of the RX 400h in 2005 (Australia in 2006), Lexus has been a pioneer of electrification in luxury segments with 18 model generations of petrol-electric hybrid models launched in Australia over 15 years.
From luxury compact hatchback to sports coupe, Lexus Australia model generations include CT 200h, UX 250h, IS 300h (x2), NX 300h, ES 300h (x2), GS 300h, GS 450h (x2), RX 400h, RX 450h (x2), RX 450hL, LS 600h, LS 600hL, LS 500h and LC 500h.
The Lexus line-up of electrified vehicles will continue to provide a wide range of options tailored to meet the needs of luxury customers.
Based on a philosophy of "right time, right product, right place", Lexus will also further develop its electrified product portfolio to best respond to a varied range of energy sources and infrastructure environments encountered around the world.
Lexus now sells nine models of electrified vehicles around the world, including hybrid electric vehicles (HEVs) and BEVs in approximately 90 countries and regions.
Since 2005, Lexus electrified vehicles have contributed to a cumulative global reduction in CO2 emissions of approximately 19 million tonnes. This reduction is equivalent to the combined CO2 output of approximately 300,000 passenger cars each year for the past 15 years.
Globally and in Australia, 33 per cent of Lexus models sold were of the electrified variety during 2020. In Australia this has increased to 38.5 per cent between January 2021 and April 2021.
Lexus Australia Chief Executive Scott Thompson said this major milestone for Lexus reflects a commitment to producing luxury vehicles that both reduce emissions and increase driving enjoyment.
"Lexus pursued electrified technologies at the right time and on a significant scale, reinforcing our commitment to CO2 emissions reduction in luxury segments," Mr Thompson said.
"We thank our loyal customers and look forward to welcoming them to next-generation Lexus Electrified products that draw on an unrivalled level of battery and electric motor expertise to create a totally new driving experience."
Lexus Australia will introduce the first Lexus BEV, the luxury compact UX 300e, in November this year. Read more here.
The UX 300e will commence a next generation of electrified vehicles that leverage electrification technologies such as motors, inverters and batteries that Lexus has cultivated in the field of HEVs.
A new feeling of driving pleasure for Lexus customers will be further reinforced through the application of DIRECT4 and steer-by-wire systems in yet-to-be-revealed future Lexus electrified production models.
DIRECT4, the Lexus all-wheel-drive torque distribution technology, combines highly-precise drive force control with responsive steer-by-wire systems that greatly enhance vehicle reflexes – resulting in a high level of dynamic performance and an experience that appeals to all five senses and is unmatched by conventional cars.