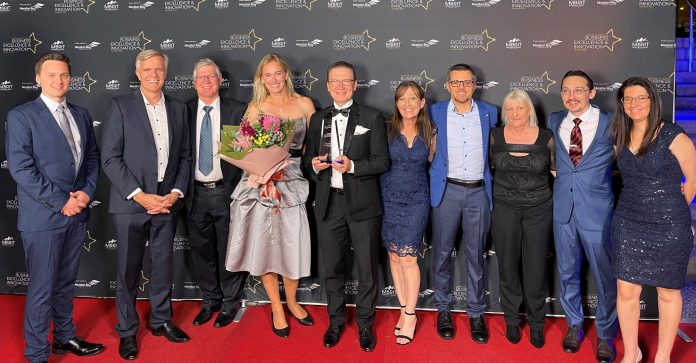 Media Release by Elexon Electronics
Elexon Electronics proudly accepted the inaugural Advanced Manufacturing Excellence Award and was named Business of the Year in the 2021 Moreton Bay Region Business Excellence and Innovation Awards in a ceremony delivered by Moreton Bay Region Industry and Tourism (MBRIT) in partnership with Moreton Bay Regional Council.
Operating for more than 15 years, Brendale-based Elexon Electronics has continually evolved in response to both changing customer needs and developments within the mining, medical and defence industries, while also being a passionate contributor to the Moreton Bay regional community.
"Being recognised in the sector of Advanced Manufacturing is quite an achievement especially during this challenging year. It recognises our outstanding performance and is our testament to our continuous development", said Frank Faller, Elexon Electronics' CEO.
"It also marks an important return of customer confidence, shifting from a dependence on overseas suppliers to homegrown manufacturing talent and capability once again," explained Frank.
The event featured 58 finalists across 12 categories, after a record number of businesses from a diverse range of sectors were nominated. The winners were decided via a judging process involving 40 expert judges, who evaluated nominations based on industry world best-practice.
Taking out the top award, Elexon Electronics is honoured to stand alongside the other highly acclaimed local participating businesses. It is the collaborative atmosphere in the region that promotes healthy competition and inspires excellence.