Meridian Energy Australia has abandoned plans to develop the 37 megawatt hydro power station at Burdekin Falls Dam, citing "destabilising revisions" to Australian energy policy as the main reason behind the decision.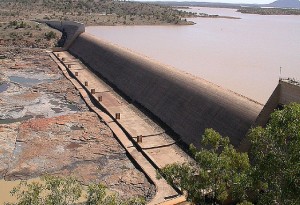 Meridian acquired the rights to develop the project at Burdekin Falls in April 2013 and had worked with local communities, landowners, SunWater (the local water authority) and the Queensland Government to successfully position this project over the past 18 months.
The Burdekin Project stood to harness the otherwise wasted power of the largest dam in Australia at Burdekin Falls and to meet the growing energy needs of agricultural and mineral businesses of the region, providing around 150 local jobs (including training for indigenous communities) during development and construction.
"Meridian understands the disappointment that the people of Northern Queensland will feel on learning of this decision. However, the Federal Government's protracted efforts to reduce the Renewable Energy Target (RET) have made long term capital investments in energy assets in this country nearly impossible," said Meridian Energy Australia Chief Executive Ben Burge.
"This is especially disappointing given the role that the Burdekin project stood to play in enhancing energy security in Northern Queensland, which is expected to emerge as a threat in the medium term."
Meridian criticised the Federal Government's position on the RET, branding it as "puzzling". In a media release issued on Friday, the company pointed out that the Government's own Warburton Review revealed that the policy did not increase the net costs of electricity for Australian consumers.
"At a time when electricity bills are significantly impacting the cost of living, the Renewable Energy Target introduces more competition into the Australian energy market, and serves as an important policy for relieving the pressure on electricity bills," it says in the media release.
Meridian said that by investing approximately $1 billion in renewable energy over the past five years (under the explicit invitation to long term capital embedded in the RET) and rolling out a new model of electricity retailing enabled by the RET, the company and Powershop have enabled some Victorian customers to save over 40% on the costs of their electricity bills.
"Meridian's and Powershop's hope was to deliver meaningful savings in Queensland with the Burdekin project as a foundation investment. Sadly, the decision to undermine the long term investment signals of the RET makes it more difficult to realise these benefits for Queensland businesses and households," said Mr Burge.