The Warren Centre Innovation Lecture is an annual lecture given by a renowned Australian to demonstrate successful innovation in practice and to raise awareness of engineering, science, and technology.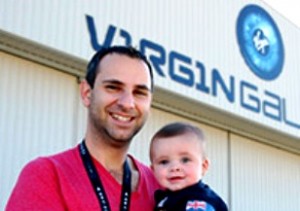 Last year, the main lecture was delivered by Dr Alex Zelinsky, Chief Defence Scientist, Defence Science and Technology Organisation (DSTO).
The theme of this year's lecture is space industries, technology and innovation, highlighting the key role that Australia and Australians play in global space industries.
The main lecture will be given by engineer Enrico Palermo, Vice President, Operations for The Spaceship Company (a Virgin Galactic Company).
As a full-service aerospace composite manufacturer and integrator with a wide range of capabilities, The Spaceship Company (TSC) is currently developing the first fleet of commercial sub-orbital spaceships and carrier aircraft in the world.
According to the media release by The Warren Centre for Advanced Manufacturing, Mr Palermo is spearheading the group's spaceship construction program in California.
"It is great to see young Australian professionals succeeding in the field of science and technology and becoming world leaders.  The Virgin Galactic program is a revolutionary new field of space innovation that offers many lessons into a vast array of day-to-day industries from transport to material science," said Ashley Brinson, Executive Director of The Warren Centre for Advance Engineering.
"This lecture is a must attend event for anyone who has wondered about private space travel, what it means to be innovative and how to achieve one's career aspirations."
Mr Palermo will deliver the 2014 Warren Centre Innovation Lecture at the Powerhouse Museum tonight and in Canberra, Adelaide and Perth over the coming week.
He will talk about his journey from Perth to the Mojave Desert via University of Western Australia and the International Space University.
"I have been incredibly fortunate to have the opportunities I have with The Spaceship Company and Virgin Galactic. It is an engineer's dream to be at the leading edge of an area like spaceship construction and embracing all the challenges it involves," said Mr Palermo.
For more information, please go to thewarrencentre.org.au