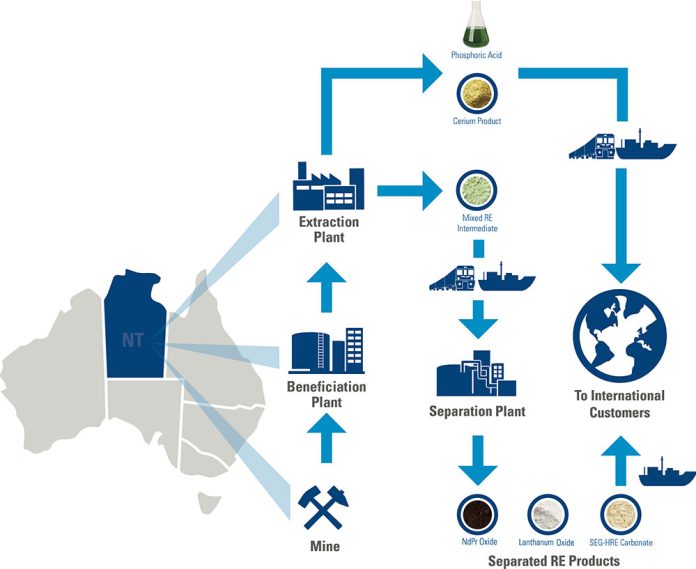 Australian mineral exploration company Arafura Resources has received recommendation for approval from the Northern Territory Environment Protection Authority (EPA) to progress the development of a new rare earths mine in the NT.
The Nolans Project, which is situated about 135km north-northwest of Alice Springs, has been green-lighted by the EPA following a rigorous environmental impact assessment which concluded that 'it could be managed to avoid unacceptable environmental impacts and risks'.
NT EPA Chairman, Dr Paul Vogel, said the NT EPA identified 'potentially significant environmental impacts and risks' associated with the proposal, including use of groundwater and discharge of radioactive material,  and made 16 recommendations to avoid and mitigate those impacts.
"This proposal comes with long term environmental risks that will require a high level of ongoing regulatory scrutiny across Government," Dr Vogel said.
Arafura's proposal is to mine rare earth elements – key components in many green and sustainable products, such as wind turbines for the clean energy industry and hybrid vehicles.
The project's cornerstone asset is the Nolans Bore rare earths-phosphate deposit, one of the largest deposits of its kind in the world containing a JORC 2012-compliant Mineral Resources of 56 million tonnes at an average grade of 2.6% total rare earth oxides (TREO).
The proposal includes open cut mining and processing over a 55 year mine life.
Image credit: https://www.arultd.com/projects/nolans.html