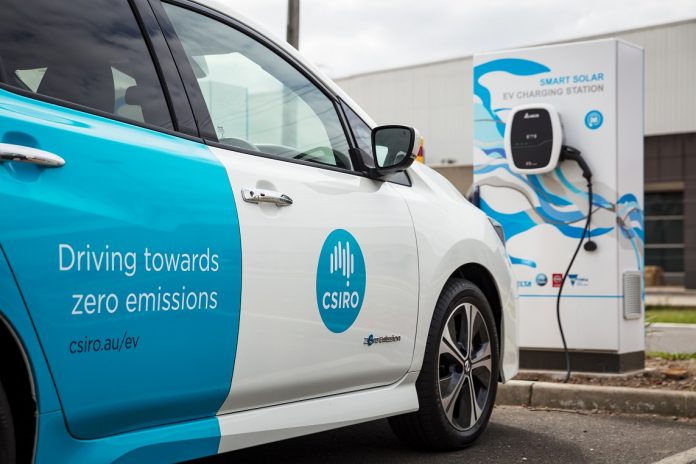 A new research partnership between Delta Electronics, Nissan and CSIRO could soon see electric vehicles in Victoria run on solar power.
Delta Electronics, Nissan and CSIRO have already begun trialling solar smart technology electric vehicle chargers that are compatible with all electric vehicles currently on the market.
The partnership has been boosted with $210,000 in funding from the Victorian Government that will allow for further testing and fine-tuning of these next-gen EV charging systems, which also include battery storage, in real-world applications.
Minister for Energy, Environment and Climate Change Lily D'Ambrosio, said the technology has been developed by Delta Electronics and CSIRO and the trials, run in partnership with Nissan, will test both fast and slow charging scenarios relevant to a range of Australian electricity grid and environmental conditions, particularly in regional and rural areas.
"We know we need to reduce emissions in the transport sector and one of the best ways we can do that is to support partnerships like this one," Ms D'Ambrosio said.
"By encouraging electric vehicle take up, we reduce greenhouse gas emissions, improve air quality and increase job opportunities in Victoria.
"This battery smart storage platform means electric vehicle drivers can travel more confidently and enjoy the drive."
Lead researcher from CSIRO's Centre for Hybrid Energy Systems Dr Christopher Munnings said the new solar-powered EV charging stations will maximise use of renewable energy, alleviating stress on the grid during peak periods.
According to Mr Munnings, up to 90% of EV charging was 'likely to take place in the home'.
"A normal household battery system is typically not powerful enough to charge a car on a hot day as it can overheat and slow down," Dr Munnings said.
"We've devised a way to manage the temperature of the battery, minimising the amount of power required from the grid.
"In a multi-EV home, this system will automatically monitor each car, spreading the load between the battery, solar PV and the rest of the home.
"This means the cars charge as quickly as possible, using as much sun as possible, without the need to upgrade grid connection. This technology could accelerate the widespread rollout of EVs across the country."
Image credit: https://www.csiro.au