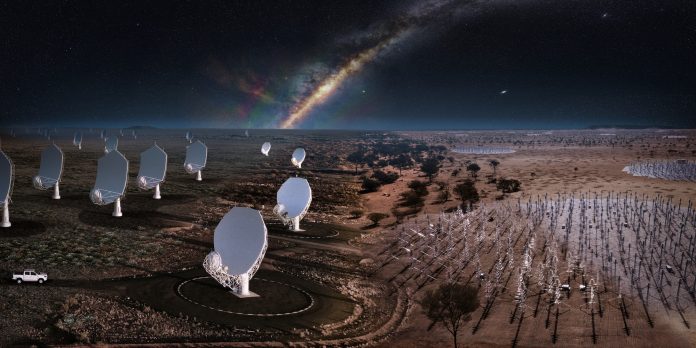 The Federal Government is seeking expressions of interest from local businesses looking to get involved in construction of the world's largest radio telescope project – the Square Kilometre Array (SKA) – in WA's Mid-West region.
The SKA is an intergovernmental big-science radio telescope project that will create more than 350 jobs during the 10-year construction phase and a further 230 ongoing positions during its more than 50 year lifetime.
An international collaboration between 16 member countries, the SKA will be built in Australia and South Africa, with Australia to build and host the low-frequency part of the telescope (SKA-Low), which includes up to 131,072 individual SKA antennas.
Expressions of interest are being sought for three new construction contracts at the SKA site, including high-specification buildings, the main site access road and emergency airstrip, and for road, fibre and power access between antenna stations.
Making the announcement, Minister for Industry, Science and Technology Christopher Porter said the project would open up 'incredible opportunities' for a range of industries, with some of the contracts containing specific local content requirements to be awarded to Mid West businesses and the Wajarri Yamaji traditional landowners.
"To ensure Mid West and Wajarri Yamaji-owned business can participate, the main access road and emergency airstrip opportunity has been split off a larger work package and will be made available this week specifically for businesses based in the region," the Minister said in a statement.
He said that other, larger infrastructure packages include a requirement that at least 30% of the value of the contracts, excluding major materials and equipment, would be delivered by Mid-West businesses.
"There are also further incentives for local and Wajarri Yamaji business involvement in the infrastructure contracts, with preferential assessment criteria for Mid West and Wajarri Yamaji participation," reads the statement.
The SKA Observatory (SKAO), a UK-based intergovernmental organisation responsible for all procurement for the construction and operation of the SKA telescope project, is undertaking a market survey as a crucial 'expression of interest' step for businesses that want to bid for SKA work.
Suppliers that register interest will be sent a pre-qualification questionnaire and shortlisted companies will be invited to tender for the work packages.
According to Mr Porter's statement, the Infra 1 (Spatial) and Infra 3 (Buildings) market surveys are now open and will close on Tuesday 10 August 2021. The Infra 7 (Main Road and Emergency Air Strip) market survey will be made available for Mid-West businesses this week.
To be eligible for consideration by the SKAO, businesses must first complete the survey on the Procurement Portal accessed through https://www.skatelescope.org/procurement.
Image credit: https://www.skatelescope.org/wp-content/uploads/2021/05/943.jpg