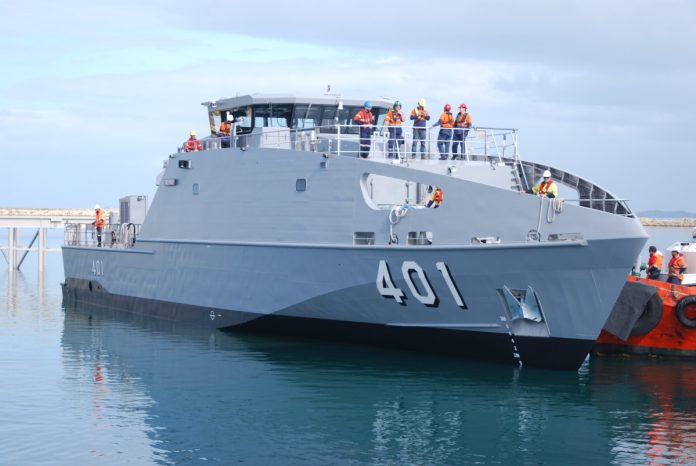 Austal has launched the first of 21 new Pacific Patrol Vessels from the Government's A$90 billion continuous shipbuilding program at its Henderson shipyard in Western Australia.
The vessel, which will be gifted to Papua New Guinea in late October 2018, has been delivered just two years after Austal landed the original, A$305 million contract for 19 vessels and associated in service support.
This contract has since been expanded to include two additional vessels for A$29.7 million.
Austal CEO, David Singleton said the Guardian Class patrol boat has been delivered on time and on budget.
"Austal is proud to be delivering the PPB-R program for the Commonwealth. This is the first steel ship program we have managed and we are doing so on time and on budget" Mr Singleton said.
"It is a testament to the skills, experience and management of the Austal PPB-R team that the first vessel has met its project milestones for design and build, on schedule."
"The overall construction program is well underway with vessels two and three in build and the fourth vessel commencing construction in June."
Speaking at the official launch ceremony, Defence Industry Minister Christopher Pyne said:
"The project, which is worth around $335 million, is on time and on budget."
"This particular boat will be gifted to Papua New Guinea in late October 2018, and is the first of 21 boats to be gifted to 12 Pacific Island countries and East Timor as part of the Pacific Maritime Security Program."
"Austal has advised the Guardian Class Patrol Boat Project supports around 400 jobs either directly or through the supply chain."
The 39.5 metre steel-hulled patrol boats, which are being built at Austal's dedicated production facility near Henderson, will be used to conduct maritime surveillance and enforcement operations, such as combating illegal fishing.