Focus Press has unveiled its new $8 million Canberra-based facility that is expected to increase the group's capacity by around 13% and bring about fast-turnarounds.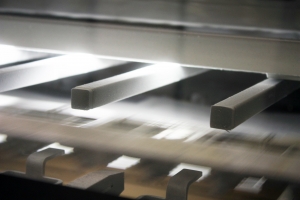 According to David Fuller, managing director of Focus Press, the company is currently engaged in relocating its newly acquired PMP Canberra business from the old PMP site in Fyshwick to its new premises in Hume.
The relocating process has been underway for around two weeks and is expected to be completed in December, according to an article featured on ProPrint.
ACT deputy chief minister Andrew Barr will open the site today.
According to Mr. Fuller, the $8 million investment had been used for leasing, fitting and installing machinery in the building operated by a staff of 15 workers, with the number of employees expected to rise in the new year.
The new factory will be equipped with a cutting edge "digital firepower" and a five-color plus coater press, but also with a six color press that is due to arrive in 2014. Mr. Fuller declined to disclose further details on the new facility.
"It's a site that's dedicated to short-run, fast-turnaround. The average job you'll put in today and be delivered tomorrow," he said.
According to him, the Sydney manufacturing plant and Wollongog site could each print approximately four tonnes per day and deliver next-day turnarounds. He added that the new Canberra facility will focus on lean manufacturing and produce about one tone per day and will also have the capability to deliver next-day turnarounds.
The new Canberra-based facility will be carbon neutral and constantly search for more efficiency. Mr. Fuller said that the Sydney plant had managed to decrease it energy use by 50% in 2013.
"The new value is that quality is a given. The scope of service needs to be broad, and turnaround is really important," he said.
"Simplifying print is very important to us – giving enablers to customers to allow them to lodge a marketing campaign with us on Tuesday and we can have it in the mail by Wednesday or Thursday at the latest."
Mr. Fuller added that all three sites will operate independently, but will sometimes work together on large orders.
Meanwhile, Focus Press will also announce an acquisition at today's opening.
Mr. Fuller revealed that the group had acquired a sustainable promotional product business, but would not give the name of the business, saying that it was an experienced company and that Focus Press had taken on its intellectual property and key staff.