New Zealand dairy giant Fonterra has opened a $36 million packaging plant in the industrial city of Cikarang in Indonesia.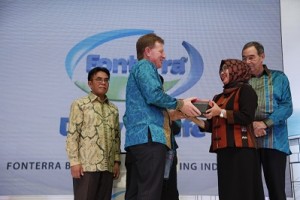 At the new facility, the company will blend and package the infant formula Anmum, the high nutrition milk Anlene and the high calcium milk Anchor Boneeto.
"Fonterra has been supplying high quality dairy nutrition to Indonesia for more than 30 years and today it is one of our most important global markets. The opening of our new plant is an exciting step forward in our relationship with the country and local dairy industry," said Fonterra Chairman John Wilson.
"Fonterra is built on generations of dairy expertise passed down through our farming families in New Zealand. This history has allowed us to develop world leading technology and capabilities to produce, manufacture and export high quality and safe milk and other dairy products to more than 100 countries around the world. We're proud to be able to bring this expertise to Indonesia."
At the official opening, Mr Wilson was joined by Indonesia's Deputy Minister for Food and Agriculture and Coordinating Minister of Economic Affairs, Ibu Ir. Musdhalifah Machmud, New Zealand's Minister of Local Government, Social Housing, State Services Paula Bennett and senior executives from Fonterra.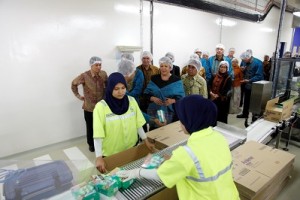 According to Fonterra Managing Director Asia, Middle-East, Africa (AsiaMEA) Johan Priem, the investment strategically positions Fonterra to help meet Indonesia's continuous growing demand for dairy nutrition.
"The country's large and increasingly affluent population is looking for highly nutritious foods for all ages. This is fuelling dairy demand growth which is expected to increase by five per cent every year to 2020," he said.
"Our new plant has the capacity to pack around 16,000 MT of dairy ingredients a year – that's a pack of Anlene, Anmum and Anchor Boneeto every second, or 87,000 packs every day, which will go a long way in helping Fonterra meet this growing demand for dairy."
New Zealand Minister of Local Government, Social Housing and State Services Paula Bennett congratulated Fonterra on the official opening of the plant, stating that it reflects the increasingly interconnected nature of global value chains.
Fonterra said that it had worked with local partners on construction and that the new site would employ 160 staff when running at full capacity.