A leading group of East Gippsland agri-food and food processing businesses have shared their plans for sustainable development with Minister for Manufacturing David Hodgett.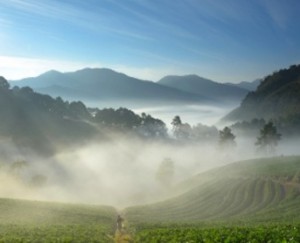 Last week, Mr Hodgett visited the East Gippsland Food Cluster (EGFC) in Bairnsdale, to hear how their projects, which includes a traineeship program and a joint procurement initiative, are helping to strengthen the skills, innovation and productivity of its members.
"East Gippsland's food production and processing plays a vital part in the economic wellbeing of the region and also makes a significant contribution to the Victorian economy. I was very impressed to hear how the EGFC is using Victorian Coalition Government funding to deliver several priority projects to advance competitiveness and productivity within the industry," Mr Hodgett said.
The EGFC, which is a collaborative network of 10 local agri-food and food processing companies, is committed to projects that increase the sustainable development of the region's agri-food sector.
Member for Gippsland East Tim Bull believes the success of the EGFC was important to maintaining the growth of the agri-food and food processing industries in his electorate.
"It's fantastic to see some of the great projects being facilitated by the EGFC to encourage sustainable development of our agri-food and food processing industries. These sectors provide significant revenue and vital jobs to our region, and their continuing strength is vital to the continuing growth of these companies," Mr Bull said.
The cluster, which has a workforce of over 1,200 employees, represents around $600 million of value added production in the East Gippsland region. The members of EGFC are Patties Foods, Vegco, Bonnacord Ingram, Frais Farms, Bulmer Farms, Riviera Farms, Dennison Foods, Happy Camper Gourmet, HSR Seeds and Picnic Point Farms.
Mr Hodgett revealed the EGFC had received significant support from the Victorian Coalition Government, including a $155,000 Manufacturing Productivity Networks (MPN) grant this year to deliver several key projects.
'Manufacturing Productivity Networks is a major program under the Coalition Government's manufacturing strategy – A More Competitive Manufacturing Industry: New Directions for Industry Policy and Manufacturing.'
Launched in September 2012, the $7.5 million program runs over four years and provides grants on a competitive basis to support Victorian networks to undertake activities that will improve the productivity and competitiveness of Victorian manufacturing businesses.
A new round of MPN grants will be open for applications on 12 August 2013. Further program information can be found at www.business.vic.gov.au or by phoning 13 22 15.