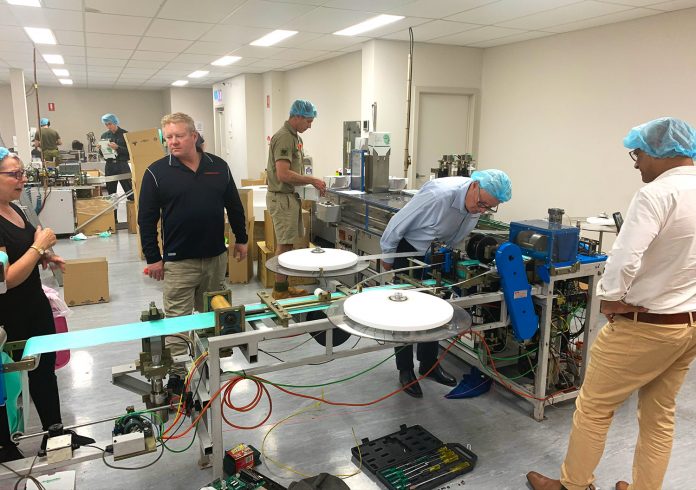 Media Release
Packaging automation manufacturer and integrator Foodmach has been recruited to build equipment that will enable Australia's only current manufacturer of surgical masks to increase production by 2,500%.
The COVID-19 crisis is causing critical supply-chain shortages in Australia as overseas suppliers look to satisfy local demand first. Stocks of surgical masks need to be replenished quickly if COVID-19 cases continue to grow. In response, the Australian Government is developing innovative arrangements with agile companies who can respond to the urgent demand for supplies.
Med-Con, based near Shepparton, Victoria, is the only factory in Australia still making surgical masks. Despite the superior quality of their product, Med-Con's business has dwindled to 5% of the Australian market in the last decade due to competition from China.
The Department of Industry, Science and Technology requested that Med-Con immediately increase production from 2 million to 50 million surgical masks a year. One of Med-Con's initial concerns was that only two of its three mask-making machines were operational. The machines were designed and built nearly 40 years ago, and no original drawings were available to reproduce them.
As part of this time-critical innovation challenge, Australian Defence Force (ADF) engineers disassembled and modelled the non-operational Med-Con machine. Several engineering firms were assessed for competency to reverse engineer and manufacture three new machines.
Foodmach has been appointed to engineer and build the machines due to the company's experience, capabilities and resources.
'Building packaging machinery requires strong expertise in mechanical engineering, electrical systems, pneumatics and motion control. Our pool of talent across all these fields and our one-stop-shop factory set-up means we can quickly build something new and complex like machines that produce surgical masks.' said Peter Marks, Director, Foodmach.
The project is not without its challenges.
'Reverse engineering is usually a lengthy process that involves a lot of testing and adjustments.' said Peter Marks. 'We have 60 days from start to finish to find ways to build a machine that uses parts which have long been obsolete.'
'Although 3D models have been provided by the ADF, these still need to be detailed on a part by part basis, materials identified and checks made that they'll assembly correctly. There will be knowledge gaps around material specifications and possibly tolerances which need to be resolved. The old design will also need to be updated to current safety, controls, and interfacing standards.'
Foodmach's 6,600 square metres of factory and machine shop space in Echuca, Victoria will allow its 100-strong team of skilled staff to work around the clock—while maintaining enough distance from each other to manage COVID-19 risks.
Earle Roberts, CEO, Foodmach: 'Keeping our workforce safe and productive in an epidemic that has the potential to threaten 40-70% of the Australian population is clearly a high priority for us. Staff will be working in shifts 24/7 during the next eight weeks to meet the deadline. Normally with a good set of drawings we'd want 16 to 20 weeks to build something new like this, so to try and complete one machine in eight weeks, and three inside 12 weeks, is a stretch to say the least.'
'The complexity of the Med-Con machines will provide us with an exciting challenge. We've obviously never built one before—but with all the necessary design, manufacture and assembly expertise under a single roof, we're well equipped for it.'
Foodmach is keeping a public log of project updates which can be found at: https://foodmach.com/project-med-con/
---
Image Provided