Ford Motor Company — the only medium-duty truck manufacturer that designs and builds its own diesel engine and transmission combination — has announced the all-new Ford F-650/F-750 diesel truck that is set to be available in spring 2015.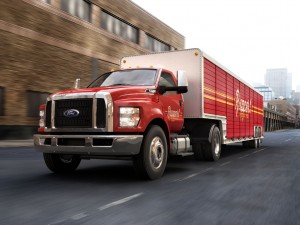 According to the news release by Ford, the new medium-duty truck line-up with 6.7-litre Power Stroke® V8 turbo diesel features the following three diesel power levels: 270 horsepower/675 lb.-ft. torque (best-in-class standard); 300 horsepower /700 lb.-ft. torque; and 330 horsepower/725 lb.-ft. torque that provide customers with the flexibility to scale engine power to work application and operations.
"While other medium-duty truck manufacturers restrict top horsepower and torque ratings to certain applications, such as emergency services, the all-new F-650/F-750 will arrive with no vocational restrictions," said John Ruppert, General Manager Ford Commercial Vehicle Sales and Marketing.
"We're giving our customers the power of choice to determine what's best for their business."
The compacted graphite iron engine block enhances durability and helps reduce noise, vibration and harshness; the reverse-flow layout places the exhaust inside the engine's V-shape, while the air intake is positioned on the outside of the V.
Turbo responsiveness, which is crucial for providing torque quickly when most needed, is substantially improved by the shorter airflow from the exhaust system to the turbocharger situated between the engine's cylinder banks, which in turn allows for isolation of the hottest temperatures of the engine, thus improving performance and efficiency.
Ford is also the segment-exclusive automaker that offers a gasoline-powered engine for a medium duty truck.
Another great feature of the 6.8-litre V10 is the option to have the vehicle factory-prepped for converting to compressed natural gas or liquid propane gas as cost-effective alternatives to gasoline.
"Offered in Regular Cab, SuperCab and Crew Cab styles and in straight frame, dock height and an all-new dedicated tractor model for heavy towing applications, the 2016 F-650/F-750 features a bold look inside and out," it says in the news release.