Ford CEO Alan Mulally said the Australian economy will suffer "in the long term" with the loss of local automotive manufacturing.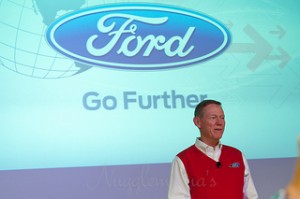 At the Detroit auto show Mulally stressed about the importance of government support for the manufacturing industry before an audience of entrepreneurs and university students.
"No country is ever successful in the long term … without a really strong and vibrant manufacturing base," said Mr Mulally, quoted in a report on The Australian.
"It's the foundation of all economic development. You actually make things that create value. That's why every country around the world is collaborating with the private sector … to figure out how to create an environment where manufacturing (is viable)."
While he wouldn't comment further on the state of the Australian manufacturing industry once local production ceases, he did give the reassurance that Ford will continue to sell cars to the Australian market once the Broadmeadows assembly line shuts down.
We're going to serve (Australia) with more vehicles … we're just not going to be making them there," he said.
Ford Australia announced in May last year that it will cease its local manufacturing operations in October 2016. Approximately 1,200 jobs will become redundant at Ford's Broadmeadows and Geelong manufacturing plants.
According to the car maker they are transforming their business operations in Australia "to provide customers with even more new products, and improved sales and service, while creating a more efficient and profitable business structure."
Ford Australia President and CEO Bob Graziano said the decision to cease local manufacturing operations was driven by increasingly challenging market conditions, citing market fragmentation and high cost of manufacturing as reasons for Ford's losses in Australia which have totaled approximately $600 million (AUD) in the last five years.
Mulally's pronouncement came around the same time GM boss Stefan Jacoby said that South Korea will likely end up manufacturing the cars for the Australian market once Holden ceases local production in 2017.
Jacoby, who proposed the decision to shut down Holden, has said that no amount of government subsidies could have saved the Holden factory.