Alcoa has completed the $300 million expansion to its Iowa facility which is dedicated to supplying aluminum sheet products to the automotive industry. The Davenport expansion created 150 construction jobs and is set to generate 150 more full-time jobs in the future, according to the media release.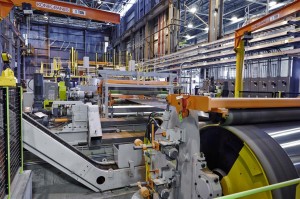 Alcoa Chairman and CEO Klaus Kleinfeld says 2014 marks the beginning of dramatic growth for aluminum in the auto sector.
"Automakers are increasingly choosing aluminum as a cost-effective way to improve the performance, safety, durability and fuel efficiency of their vehicles. Our project in Iowa is the first of three capacity expansions we have underway to meet this growing demand," Mr Kleinfeld said.
The announcement of the completion was made at 2014 North American International Auto Show (NAIAS) in Detroit by Alcoa executives.
Car manufacturers believe that the demand for aluminum used in making cars will nearly double by 2025. At present aluminum is already the second-most-used material used to make vehicles. The amount of aluminum body sheet content in North American vehicles is expected to quadruple by 2015 and increase tenfold by 2025 from 2012 levels.
Alcoa's innovations in aluminum are helping to increase the usage of the material in the automotive sector.  Alcoa 951, the company's pre-treatment bonding technology, enables more durable bonding of aluminum components in vehicles. It can reduce spot weld points and helps lower manufacturing costs. Alcoa has licensed the Alcoa 951 technology at the request of auto manufacturers to make it available across the industry.
Aside from the Iowa expansion, Alcoa is also adding automotive capacity in Tennessee, scheduled to be completed by mid-2015. It also investment on a joint venture rolling mill in Saudi Arabia to be completed by the end of this year.