Car maker Ford has decided to take a big risk with its best-selling F-150 pickup truck by completely re-dressing the vehicle's shell with lightweight aluminium body panels in order to cut weight and save fuel.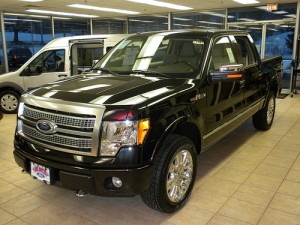 According to the article on Industry Week, company officials insisted that the "military grade" aluminium alloy parts being installed on the F-150's steel body will not compromise any of the truck's strengths. They also gave assurances that the truck's box frame remains high-grade steel.
By re-dressing the vehicle with aluminium panels, Ford was able to remove up to 700 pounds from the truck's weight, thus drastically reducing its high level of fuel consumption.
"For our customers, gasoline is a cost. This is a work truck. Fuel costs are a very important part of their overall equation," said Ford Executive Chairman Bill Ford, the great-grandson of legendary company founder Henry Ford.
Mr Ford said they were confident the customers would like the new aluminium version of the model.
"It is a lightweight high-strength material. Seven hundred pounds out of a vehicle like this, that's a big deal."
According to him, the company is looking into the possibility to make use of aluminium in other vehicles, once it sees how it works in the F-150.
"We know aluminium well. When we used to own Jaguar, we had great familiarity with aluminium."
However, it is clear that Ford took a big risk with this radical move. Its F series trucks, F-150 in particular, have been the top U.S. for decades. Last year the company managed to sell more than 763,000 of the F-150 model, which represents a 40% market share in the category.
Meanwhile, Ford's competitors in the pickup truck market, which is the largest chunk of the U.S. auto industry, are closely monitoring the situation for any developments.
General Motors executive Mark Reuss said he was waiting to see the public's reaction to the change, but refused to give comments when asked if General Motors were eyeing to do the same with its GMC and Chevrolet trucks.