French ice cream manufacturer R&R has reportedly tabled a $450 million bid to acquire Peters Ice Cream, one of Australia's most iconic brands founded by Fred Peters in Manly in 1907.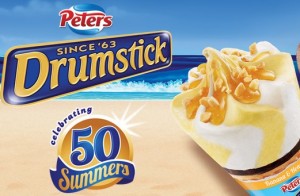 Pacific Equity Partners, the private equity owner of Peters Ice Cream, are currently engaged in negotiations with R&R to sell the company for almost twice the amount they paid in 2012, when they acquired Peters from Nestle for approximately $250 million.
According to the article on The Sydney Morning Herald, if the deal materialises, Peters Ice Cream will become the latest iconic Australian brand to fall into foreign ownership, following the surge of foreign investments in Australia's dairy industry.
It is said that the sale price equates to a valuation of about eight times next year's forecast earnings before interest, tax, depreciation and amortisation.
The imminent sale of Peters Ice Cream also means that the company will not be floating on the share-market, which had been expected.
Australian businessman Dick Smith said foreign investments are hurting Australian brands.
"I think the days are numbered because basically anyone who is any good as a food producer is pretty much immediately bought out by the Northern Hemisphere. These companies have to get growth and the only way they can get growth is by buying out other companies," he said.
According to the article on The Daily Mail, Australian-made Meadow Lea margarine and bread brands Helgas and Wonder White, have also announced this week that they will be falling into foreign hands after Asian investors bid $1.37 billion, joining the long list of former iconic products Cottees Cordials, milk brands Dairy Farmers and Dare Iced Coffee, Bushells and Nerada Teas and big biscuit manufacturer Arnott's that have been acquired by foreign investors.