Victorian self-funded start-up Furst Electrical Services has been named winner of the 2015 Tesla Victorian Business of the Year award.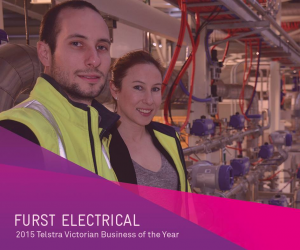 The fast-growing business was established in 2012 by siblings Mark Furst – an industrial electrician specialising in process control and automation – and his sister Lee – an MBA with expertise in financial management and accounting, steadily developing a strong reputation for designing, fabricating and installing electrical control systems for manufacturers and secondary processing industries.
Finance Director Lee Furst said the company was founded following extensive analysis and research which showed the market was short of industrial electrical contractors with the specialisation and management skills critical to successful project delivery.
"We firmly believed that customers were looking for a comprehensive service offering that we would be able to provide," Ms Lee said.
"We come from a small business family and have always aspired to work for ourselves. We both felt limited in previous roles and had a strong ambition to build a business from scratch."
Furst Electrical Services has recently penned a $1.6 million contract to install an electrical control system for chemical giant Accensi's new crop protection product manufacturing plant in Geelong and to relocate bottling machinery from Coca Cola in Brisbane to the 100% Bottling Company's production line in Melbourne.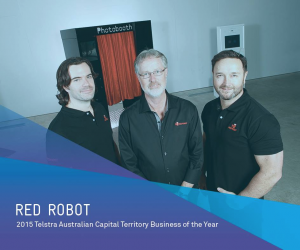 The company also worked on automating e-commerce business Catch of the Day's warehouse with a highly-sophisticated operation using robots to pick and pack customer orders.
"Furst Electrical Services is a very good organisation that focuses successfully on four distinct pillars of business, a very clear vision, solid accounting skills, strong planning around risk management and great future vision," said Mr Will Irving, Telstra Business Group Managing Director and Telstra Business Awards Ambassador.
"The Telstra Awards judges were also impressed by the business owners' understanding of competition in the market and their daily analysis of opportunities."
Innovative design and manufacturing business Red Robot took home the Small Business Award winner in the ACT, as well as the overall 2015 Telstra ACT Business of the year award.
Red Robot was founded in 2008 by Duncan Amos and Phil Preston and has since developed into Australia's largest commercial photo booth supplier and an exporter and winner of design awards.
The company has taken portable photo booths into the social media age, delivering customised photo stations in traditional or modular form for brands and marketing firms looking for customer engagement via social media photo sharing.
Last year, Red Robot landed a BBC Worldwide contract to build a TARDIS photo booth for the Australian launch of the latest Doctor Who TV series which allowed users to post their images – and expand the Doctor Who brand on social media – to friends on Facebook, Twitter, Pinterest and email by using a simple touch screen interface.
"Innovation is imperative to us leading our industry. As a result, we prioritise innovation in every aspect of our business from product design through to internal processes. The photo booth industry is niche, young and growing rapidly. So our vision is to lead the industry into an evolution of operating smarter, being more adaptable and approaching bigger markets," Mr Preston said.
"Our goal is to provide the technology, sharing our knowledge and concepts, so that people can operate a photo booth hire business with less hassle, in less time while reducing costs and increasing profits."
Telstra Business Awards Ambassador Will Irving said Red Robot was a very innovative business with a leading Australian-made product that also had a great marketing plan and future vision.
"The Telstra Awards judges were impressed by the strong rigour around its business and growth plans and the product diversity plans for its range of portable, classic fully-enclosed or modular photo stations, as well as its social media marketing tools," Mr Irving added.