The Andrews Labor Government has warned Prime Minister Tony Abbott that 800 shipbuilding jobs will be lost if the Federal Government does nothing to secure the future of the industry in Victoria.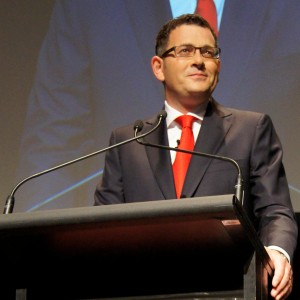 Mr Andrews, who visited Williamstown to receive an update on the future of naval shipbuilding in the state, has called on the Abbott Government to direct the AWD Alliance to have BAE Systems do additional block work on the Air Warfare Destroyer (AWD) project and reverse its decision to exclude Australian businesses from participation in the replacement of the two supply ships.
He also demanded that the Federal Government fast-track a selective tender to BAE to build the replacement Offshore Patrol Vessels, as well as to ensure Australian industry content is specified in all defence contracts.
Mr Andrews's initiative comes after media reports last week confirmed that the soon-to-be-released Defence White Paper could create an "uncertain future" for shipbuilding in Melbourne and lead to the loss of 800 high-skill jobs in the state.
"Our defence assets are paid 100% by Australian taxes, so they should support Australian jobs," Premier Andrews said.
"These 800 jobs are at risk, because Tony Abbott and Defence Minister Kevin Andrews refuse to place an order."
Minister for Industry Lily D'Ambrosio, who joined Mr Andrews on his visit in Williamstown, said the defence industry was one of the sectors of "extraordinary potential" growth that the Labor Government was targeting through the $200 million Future Industries Fund.
She said the fund will support the transition of the Victorian economy through "targeted sector strategies" aimed at creating more jobs.
"So long as the Victorian Defence Minister, Kevin Andrews continues to show a total disregard for Victorian jobs, we will keep fighting for our fair share of defence work," the Minister added.
"We have the capability to lead the world in this high-growth sector, and our $200 million Future Industries Fund aims to achieve just that."