The Construction Forestry Mining and Energy Union (CFMEU) has commended Coalition Member for Gippsland Darren Chester for championing local jobs and the paper manufacturing industry in Federal Parliament.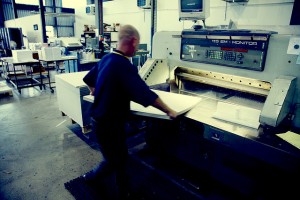 On Thursday Mr. Chester presented a petition to the Parliament containing 4,300 signatures, calling for changes in government procurement policy for paper products. The petition is asking for a "true best value proposition" when it comes to procurement, which would take into account socioeconomic and environmental benefits of using domestically produced paper products.
In his speech Mr. Chester said the Australian paper manufacturers deliver fantastic products to the Australian community and urged all members to consider purchasing locally where they can.
"I will always stand up for local jobs, and I am proud to be here today on behalf of the CFMEU people who have initiated this petition and in partnership with the Australian Paper mill at Maryvale and the owners of that facility," he said.
"Once you consider all the socioeconomic benefits associated with a local producer such as Australian Paper at Maryvale, the support for Australian jobs, the environmental credentials of our own paper-manufacturing industry and our own timber industry, and the taxation receipts of the government in the longer term, the petition makes the point quite clearly that the cheapest is not always the best."
"So I urge MPs and I urge businesses right across Australia to make an informed decision, when they make these decisions, to support Australian jobs by purchasing locally made products wherever possible."
In a media release CFMEU National Secretary Michael O'Connor said Mr. Chester deserved credit for standing with his community.
"Unfortunately local jobs are at risk due to government procurement policies.  Mr. Chester has done the right thing in standing with his community."
"I would call on other parliamentarians – irrespective of which party they are from – to follow Mr. Chester's example and actively support local jobs in pulp and paper manufacturing and the forestry industry which relies on it."