Road surfacing company Global Road Technology (GRT) has opened a new manufacturing and services facility along Warrego Highway, providing jobs and boosting the region's manufacturing industry, while also improving road safety.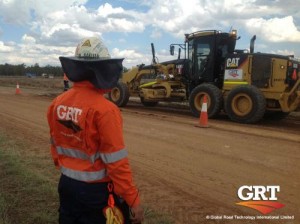 According to the press release the 16,000-sqm facility includes the factory and office space, placing the revolutionary "instant highway" provider at the heart of the burgeoning mining region, which is also considered as one of Queensland's most dangerous places to drive.
Director Ben Skinner said GRT was working on the Southern Downs for Australia's largest Liquefied Natural Gas company and would expand north to minimise the environmental impacts of the mining boom on roads as well as increase road safety.
"GRT products use in-situ material to mitigate dust and soil stabilisation issues by up to 95 percent on rural roads whilst reducing traffic volumes, water usage, fuel usage and landowner complaints," Mr Skinner said.
"These measures increase safety and environmental sustainability on rural and regional roads."
Mr Skinner said GRT products reduced dust and erosion levels by up to 98 per cent, reduced water requirements for dust control, reduced truck and equipment maintenance, and reduced landowner complaints. The technology increased safety, material density and strength, and truck utilisation.
GRT's polymer dust suppression and road stabilisation technology creates instant road infrastructure which allows the company to save time, money and resources.
Western Downs Mayor Ray Brown said roads in the region were simply unable to cope with the effects brought about my the mining boom. Traffic on the Warrego Highway alone had increased by around 18,000 vehicles, he said.
Increased traffic in the area has demanded more road maintenance works, which have been linked to a sharp rise in the number of road accidents in the Darling Down. Aside from heavy traffic on the rural roads, dust and pollution have also affected the environment. 23 people were killed on roads in Darling Downs in 2013, compared to nine in 2012.