About 100 designers, sculptors and fabricators from General Motors' studio near Melbourne participated in the development of the company's new Buick Avenir concept, which debuted in the Detroit Motor Show on Monday.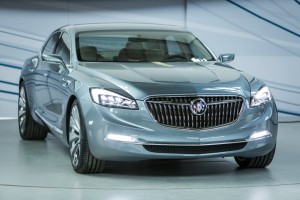 The Avenir was designed and built in collaboration between the company's studios in Australia and the United States, with GM Australia's team responsible for the Avenir's classic rear-wheel drive proportion and exterior design and its US counterparts for developing the vehicle's interior theme.
Ed Welburn, Vice President of GM Global Design, said the project leveraged Buick's styling legacy to explore a vision for a modern flagship sedan and showcased the very best of GM's advanced design talent and capabilities.
"Developing a concept between studios on opposite sides of the earth is challenging and the Avenir demonstrates how Buick's strong design heritage linked the teams with a singular vision," Mr Welburn said.
Michael Simcoe, Vice President of Design, GM International Operations, said designers shared their renderings and communicated via live conference in the middle of the day in Detroit and the beginning of the next day in Melbourne.
"Time and distance were variables, but the teams' understanding of the project brief and the sculptural essence of Buick transcended the time zones.  GM's global design studios are very well connected and we contribute to each other's projects all the time. There is a tremendous understanding of the brand's design language and passion for the future of the portfolio," Mr Simcoe stated.
The Avenir concept's signature sweep-spear body side motif and nod to the "boat-tail" styling of the 1971-73 Riviera are modern interpretations of classic Buick cues proposed by Lead Designer Warrack Leach and the Australia-based staff.
Construction of the concept took place Down Under, with the support of GM's fabrication team, which overcame the time-zone challenge with precise communications and in-house craftsmanship.
"Simply put, Avenir is a beautiful piece of sculpture, delivered on a premium proportion that acknowledges the Buick design heritage in a very progressive way. It has been a wonderful opportunity for all involved," Mr Simcoe added.