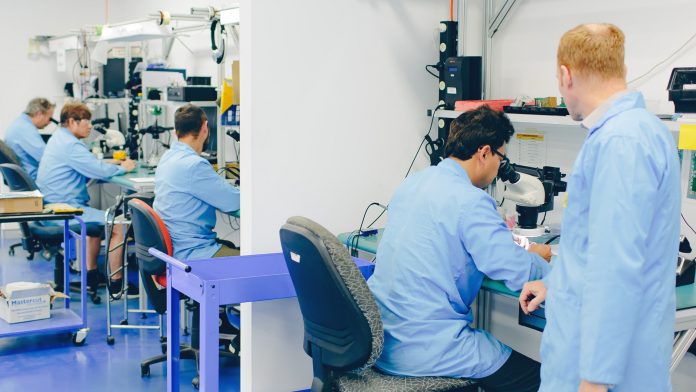 Two local companies receiving funding under round two of the Government's Moon to Mars Supply Chain Capability Improvement grants program, which established to ensure Australia's growing space sector can play a key role in NASA's Moon to Mars project.
The two recipients of the Moon to Mars Supply Chain Capability Improvement grants are Crystalaid Manufacture, a high-tech electronics manufacturer from Queensland; and Fleet Space Technologies, a nanosatellite company from South Australia.
Crystalaid Manufacture has received $461,118 to replace and modernise their vacuum oven technology to enhance their ability to supply electronics components to the international space industry.
These components could be used in satellite electronics systems and will help Crystalaid meet new supply chain opportunities. This grant will also help Crystalaid grow the skills and capability of their manufacturing team.
Fleet Space Technologies has received $386,770 to help the company and its partners SA Power Networks and OZ Minerals improve their ability to monitor remote critical infrastructure and environmental factors.
This includes collaborating to miniaturise and strengthen sensors in their network. This partnership enables Fleet Space to pursue commercial supply chain opportunities, and illustrate a terrestrial application of space technology and hardware that can be extended to Moon to Mars activities.
Minister for Industry, Science and Technology Christian Porter said the grants – part of the Government's $150 million Moon to Mars initiative – were designed to get more local companies involved in international supply chains.
"These grants will support the two local businesses to develop their work and tap into national and international space supply chains, helping grow skills and capabilities in the Australian space industry," Minister Porter said.
"We are helping Australian companies be part of NASA's plan to return to the Moon and prepare for missions to Mars, at the same time as strengthening our own space manufacturing base.
"This funding complements our $1.5 billion Modern Manufacturing Strategy which is supporting the space sector as one of the government's six priority areas."
Head of the Australian Space Agency Enrico Palermo said the two grant recipients demonstrated the high quality of work being produced in Australia.
"These grants encourage the best in our local companies, helping them develop cutting-edge technologies, create partnerships and link into national and international supply chains," Mr Palermo said.
"This strengthens Australian space manufacturing industry and helps build a high tech workforce that can make a significant contribution to the national economy.
"Support from the Moon to Mars initiative and other government programs, combined with the talent and innovation of local space manufacturers, is strengthening Australia's national space capability and enhancing Australia's ability to compete in the international space economy."
Australian space technology businesses Spiral Blue (NSW) and Advanced Navigation and Q-CTRL (NSW) received over $1 million in funding under the first round of the Moon to Mars Supply Chain Capability Improvement program, which is open for applications until 30 June 2023.
Image credit: https://crystalaid.com/#iLightbox[gallery_image_2]/2